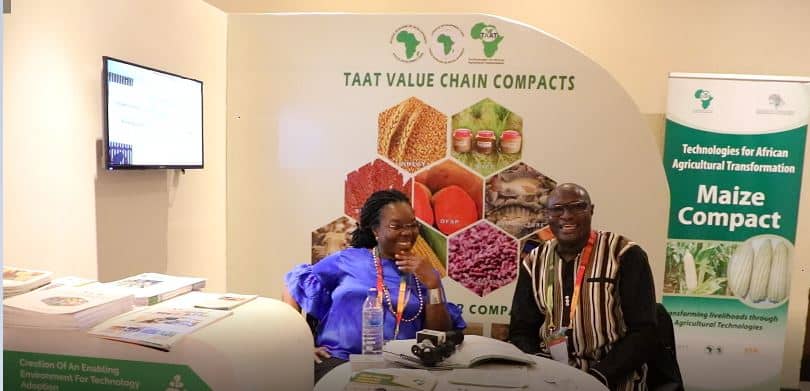 Technologies for African Agricultural Transformation (TAAT) has restated its commitment to scaling proven technologies capable of driving digital growth in African agriculture.
Dr Chrys Akem, Programme Coordinator of the TAAT Programme made this known at the ongoing 2019 African Green Revolution Forum (AGRF) holding at Accra International Conference Center (AICC), Accra, Ghana.
The Forum, which brings together more than 2,500 delegates and high-level dignitaries, including current and former Heads of State and Government; Agriculture and Finance Ministers; eminent leaders of global and regional development institutions; is considering the theme "Grow Digital: Leveraging Digital Transformation to Drive Sustainable Food Systems in Africa."
According to Dr Akem, given unprecedented growth and adoption of digital technologies across the continent, Africa has an opportunity to leapfrog the agricultural transformation trajectory of the past and revolutionize life by overcoming isolation, speeding up change and creating jobs of the future.
"But all these cannot happen if we don't take digital solutions to scale in African agriculture and that is where TAAT comes in," Dr Akem said.
Funded by the African Development Bank (AfDB), TAAT's main objective is to improve the business of agriculture across Africa by raising agricultural productivity, mitigating risks and promoting diversification and processing in 18 agricultural value chains within eight Priority Intervention Areas (PIA).
The programme increases agricultural productivity through the deployment of proven and high-performance agricultural technologies at scale along selected value chains including rice, aquaculture, maize, cassava, wheat, and livestock. Others are sorghum and millet, orange-fleshed sweet potato and high iron beans.
This year's forum, according to Dr Akem, is paying particular attention to issues relating to TAAT's mandate especially with regards to leveraging digital tools comprising of precision agriculture, sensor technology, digital financial services, data-driven agriculture, and ICT-enabled extension services to transform agriculture.
"TAAT is therefore using its exhibition booth at the forum to showcase how it is deploying proven, digital technologies to transform African agriculture. Some of the success stories on display include decision support tools for farmers, cassava business connector, RiceAdvice, the free Android-based decision-support tool for providing farmers with guideline on field-specific crop management practices for rice to improve rice productivity and increase profitability amidst others.
"There is no green revolution in Africa, yet so many technologies exist," said Jennifer Blanke, Vice President, Agriculture, Human and Social Development at the African Development."
"With these technologies, Africa should be able to leapfrog, but this can only happen if projects are scaled up," she said
Dr Agnes Kalibata, President of African Green Revolution Alliance (AGRA) echoed similar sentiments while kick-starting a week of discussions.
"By using digitalization to leapfrog traditional development pathways, we can make the decade to 2030 the last mile of delivering Africa's green revolution".
The 2019 AGRF features digital technologies and platforms transforming agriculture across the continent and globe. It seeks to identify and catalyse the enabling policies, programs, and investments needed to further leverage this digital transformation for sustainable African food systems.