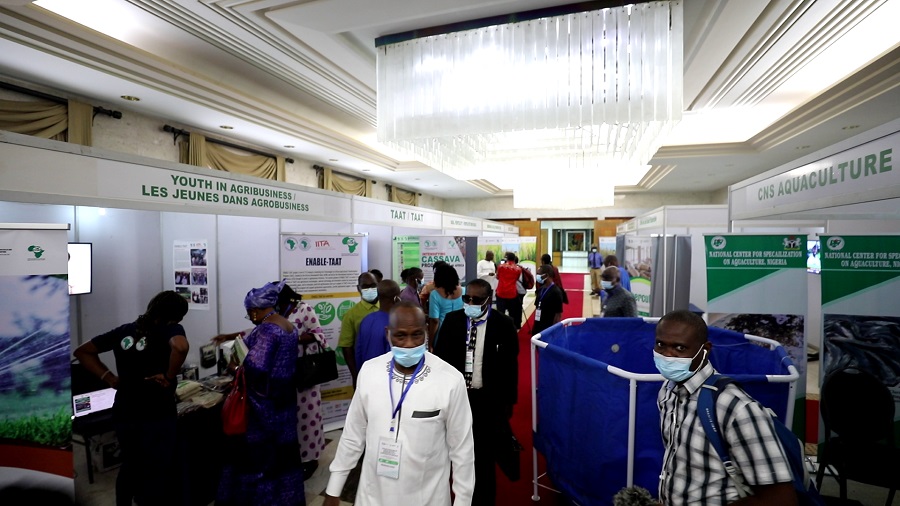 Experts and participants at the first edition of the West Africa Technology Fair (WATEF) have underlined the need to strengthen Regional Centres of Excellence (RCE) as a model  for expanding technology brokerage and sharing of expertise and resources in West Africa. To achieve this, participants called for an urgent support mechanism for these centres at both country and regional levels .
This was contained in the Dakar Call to Action adopted at the valedictory session of the fair which held on Friday the 25th of October 2021 in Dakar, the Senegalese capital.
Highlighting the imperatives of transforming the business of agriculture in order to attain a food secure West Africa, the fair called for an enhanced mechanism for the following:
Technology profiling: technology profiling with capacity to assess various technologies in order to determine their readiness for scaling, and economic/social potential and sustainability. Return-on-Investment analysis that showcases the small, medium and large-scale investment opportunities also need to be undertaken. An excellent example of this is the Catalogues developed by TAAT on various commodities. There is however need to come up with Policy Brief versions of these documents for policymakers.
Certification: A rigorous Certification process needs to be in place to guarantee the technology's efficacy, quality, and safety. Such a technology certification process could be linked with Government-controlled processes wherever they exist. CORAF and TAAT are to collaborate in this regard.
Private sector engagement: technologies certified as scalable need to be taken through the brokerage process, which involves linkage with the Private Sector. Special strategies are to be embarked upon concerning engagement with the Private Sector in this brokerage activity, including mobilisation of resources from the private sector in support of technology brokerage. Programs such as TAAT and CORAF's National Centres of Specialisation (NCoS) are to work with governments in the sub-region to create an enabling environment for the private sector to flourish.
Government engagement: A key element of technology brokerage is engaging with the Government and mainstreaming the technologies into Government programs. This should include mechanisms for involvement in country loan programs from development banks. The proven, tested, and certified technologies must be well-profiled and packaged to incorporate into country loan programs and other initiatives.
Intellectual property (IP) on public-funded technologies: The issue of IPs as they relate to private sector uptake of technologies developed through public sector support as public goods need to be further analysed. A special expert group meeting or consultancy may need to be established to deliberate and provide guidance on this.
The fair noted with appreciation, the transformation of the Consultative Group on International Agricultural Research (CGIAR) centres into a One CGIAR entity as well as the creation of West and Central Africa regional programme under One CGIAR and the anticipated focus on delivery, dissemination and scaling of agricultural technologies.
WATEF equally stressed the need to strengthen technology delivery by de-risking uptake and breaking the hesitancy syndrome on technologies. TAAT, through its Compacts, were enjoined to establish partnership agreements and operations with respective NCoS) and the RCEs. This, the fair reasoned,  will enhance synergy and help to regionalise the efforts.
In the words of Dr Kwesi Atta-Krah, the Lead Moderator for the fair, "WATEF was a great source of information and experience sharing across the various technology options which needs to be built upon."  "It is suggested that the future phases of TAAT/NCoS must embrace the agronomic gains made and translate the same to economic gains at scale. In this regard, there is a need to rethink the structure of TAAT Commodity and Enabler Compacts to ensure that the enabling elements for technology function are built within the various commodity programs and compacts," he added.
Organised jointly by CORAF and TAAT under the auspices of the Economic Community of West African States (ECOWAS), WATEF, which held over a period of five days (October 25-30, 2021) at the King Fahd Palace Hotel, brought together agriculture and technology experts from West Africa, farmer organizations, businesses, civil society members, etc. .
To access materials from the fair, click here