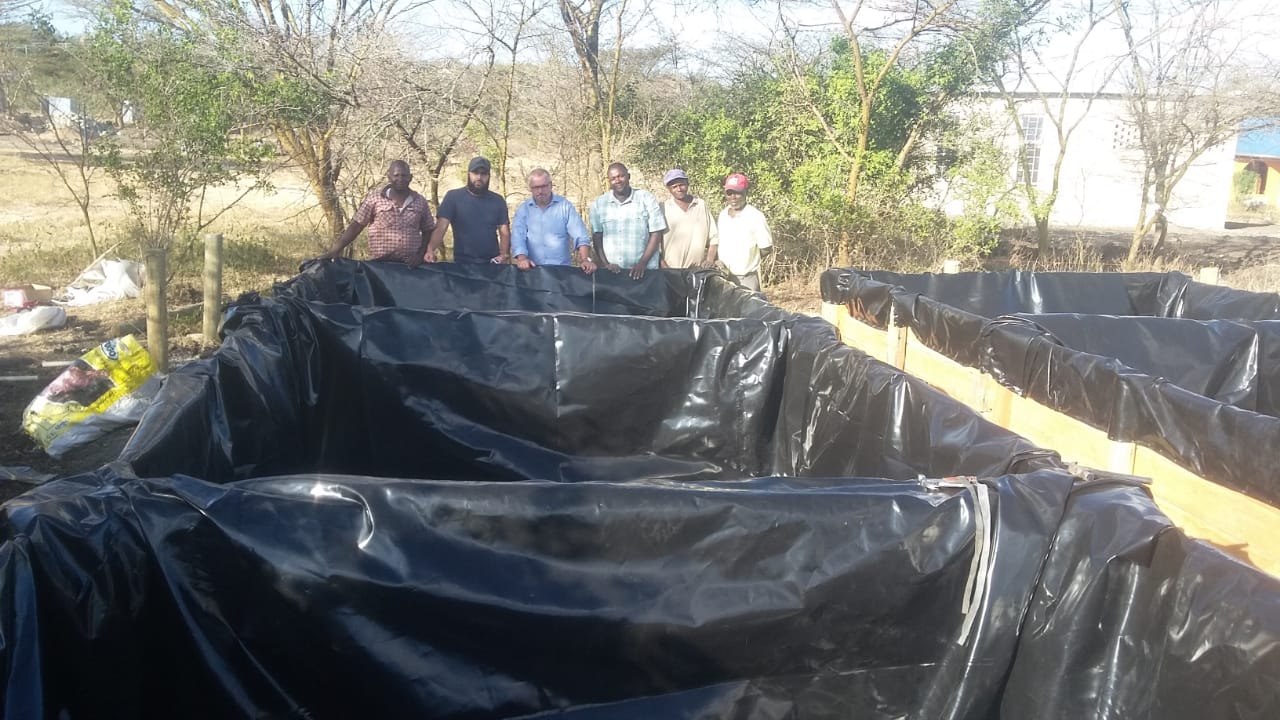 Mr. Wachira is a young entrepreneur who has had passion for fish farming.
He has visited many fish farms to learn how to keep fish with the limitation of land in mind. He says that space for keeping fish has been the main challenge.
This is because he does not own any land. He works with the catholic missionaries in Rongai, Nairobi Kenya.
He attended one of the many trainings organized by one of the beneficiaries trained through the Aquaculture compact of Technologies for African Agricultural Transformation (TAAT).
There he heard of the technologies available for fish production for the first time.
Wachira took keen interest in raised-pond technology and asked his boss in the Catholic mission to give him a small portion for rearing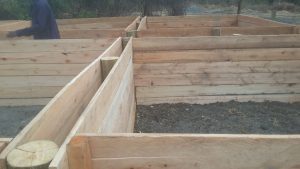 fish. He promised the Priest that he would not dig ponds in the piece of land given to him.
The Catholic priest who was also interested in the new technology gave Mr. Wachira the requested space and partly financed the venture.
Upon receipt of the support, Wachira then contacted Mr. James who is a beneficiary of the TAAT ToT training for him to construct the raised ponds for him.
"I have been looking forward to doing fish farming for so long but now God has answered my prayers," remarked Mr. Wachira.
The construction of the ponds commenced on 1stApril 2019 and completed on 7thApril 2019 having constructed six ponds measuring 3M x 2M x 1M. On 9thApril 2019, the ponds were stocked with 500 tilapia fingerlings in Rongai, Kenya.
The TAAT Aquaculture compact has exposed fish farmers to different Technologies in Kenya which was lacking in the past.
Led by WorldFish, the Aquaculture Compact is one of the 9 agricultural value chains under the African Development Bank (AfDB) funded TAAT programme.
The compact aims to increase fish production and self-sufficiency through sustainable intensification of existing aquaculture enterprises.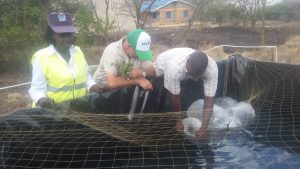 Previously, the popular belief was that you can only dig pond to keep fish. This has been demystified by the new technologies deployed by TAAT Aquaculture Compact.
The available technologies which are currently being disseminated in Kenya include In-Pond Raceway System IPRS which aims at reducing the period of production from eight months to five months and Raised Pond System (RPS) has given women and youths who do not own land in Kenya, an opportunity to start fish farming, value addition, quality feed production and production of quality fast growing fingerlings.
The introduction of RPS technology through TAAT Aquaculture Compact, has encouraged people who do not own any land to venture into fish farming.
This has led to increased production with attendant impact on food security in the country. These technologies have been able to reach many prospective fish farmers through step down training from Aquaculture Compact beneficiaries.
Wachira is specifically thankful to TAAT for the new technologies since he can now do fish farming without owning a land.
Funded by the bank, TAAT's main objective is to improve the business of agriculture across Africa by raising agricultural productivity, mitigating risks and promoting diversification and processing in 18 agricultural value chains within eight Priority Intervention Areas (PIA).
The programme increases agricultural productivity through the deployment of proven and high-performance agricultural technologies at scale along selected value chains.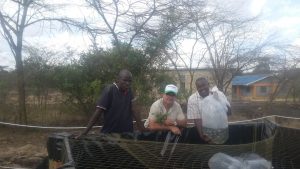 "I had lost hope of doing fish farming because land in Kenya is very expensive making it impossible for young people like me to acquire. But with this technology, land can be leased to start the business" Says Wachira
Wachira is using the knowledge acquired through TAAT Aquaculture compact stepdown training offered by Mr. Muchangi to produce fish for his community and in turn make money.
His vision is to lease more land and construct many of these ponds so that one day he can buy his own land.
Realizing that there are many people yearning for these technologies especially among youths and women, TAAT is already exploring possibilities of taking technologies to scale in several counties within Kenya.