July 24, 2023
UN Food Systems Summit +2: Stocktaking Moment in push to transform food systems and accelerate action for the SDGs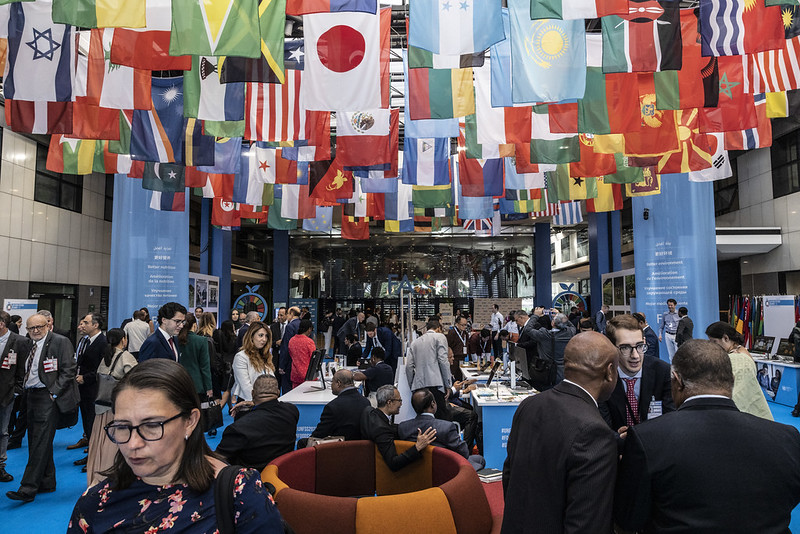 The UN Food Systems Summit+2 Stocktaking Moment (UNFSS+2) convened by the UN Secretary-General and hosted by the Government of Italy is taking place at FAO Headquarters in Rome from 24-26 July 2023. This high-level event brings together close to 2000 participants in-person, from 161 countries, including 22 Heads of State and Government, more than 100 Ministerial delegates, and over 150 Non-State-Actor organizations as well as the UN System and other International Organizations.
Since the Summit in 2021, most nations have demonstrated a will to make progress towards National Food Systems Transformation Pathways – priorities backed by national ecosystems of support. Building on this, the UNFSS+2 will enable participants to identify successes, enduring bottlenecks, and priorities to bridge the implementation gap for food systems transformation and SDG acceleration.
Despite progress, the UN Secretary-General's report "Making food systems work for people and planet-UN Food Systems Summit+2" shows that more remains to be done. Guided by the report's findings and national experiences, leaders and participants will aim to reverse food insecurity and hunger in line with the 2030 Agenda by fully integrating national pathways into development strategies, securing finance to accelerate food systems transformation, and responding to food crises through enhanced international cooperation and solidarity that leaves no one behind.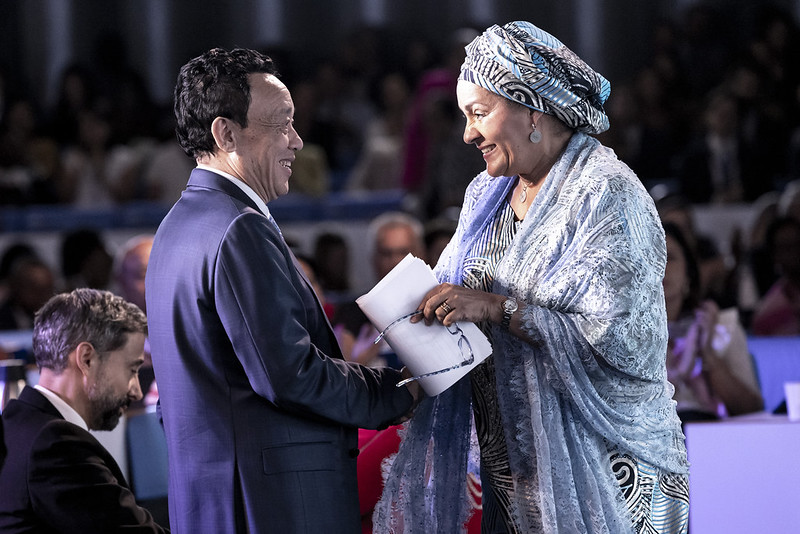 The event highlights that food systems transformation is key to reducing CO2 emissions and keeping the 1.5C goal of the Paris Agreement alive, and that it requires cooperation with large food and agricultural companies. At the same time, cognizant of the worsening impacts of the climate crisis on agriculture and small farmers, leaders and key actors will discuss adaptation measures and investments.
Speaking at the Opening Ceremony which had in attendance the Prime Minister of Ethiopia, Abiy Ahmed; President Julius Maada Bio of Sierra Leone, Prime Minister of Bangladesh, Sheik Hasina; and President of Armenia, Vahagn Khachaturyan, among others, the UN Secretary-General António Guterres said, "Global food systems are broken — and billions of people are paying the price. More than 780 million people are going hungry while nearly one-third of all food produced is lost or wasted. More than three billion cannot afford healthy diets."
"Broken food systems are not inevitable. They are the result of choices we have made. There is more than enough food in the world to go around. More than enough money to fund efficient and sustainable food systems to feed the world, while supporting decent work for those who grow the food we eat."
Guterres noted that starving food systems of investment meant starving people, adding that chronic hunger was increasing in regions with the weakest and most underfunded food systems, including Western Asia, the Caribbean, and across all regions in Africa.
He urged governments to respond to the call for a Sustainable Development Goals(SDG) stimulus to scale up affordable long term finance for all countries in need by at least $500 billion yearly.
This, he said, would help countries make meaningful progress towards SDG two, to achieve zero hunger, and build systems that could ensure people had access to affordable nutritious foods wherever they lived.
"We also need greater investments in adaptation to resilient food, health, water, sanitation and agricultural systems that can withstand early warning systems.
"I call on governments to support the food import facility proposed by the global crisis response group on food, energy and finance to expand food accessibility for at least 50 countries facing acute food insecurity."
Guterres also tasked governments and businesses on working together to build systems that put people over profits.
He asked governments in the food, agriculture, transportation and retail industries to explore new ways to lower cost and increase the geographic availability of fresh, healthy food for all people.
He said that this meant keeping food markets open and removing trade barriers and export restrictions, and also leveraging science and technology to improve the efficiency of food systems.
On his part, food systems transformation is fundamental to reducing carbon emissions and limiting global warming to 1.5 degrees Celsius.
According to him, transformation needs new sustainable food systems that can reduce the carbon footprint of food processing, packaging and transportation.
"It means harnessing new technologies to reduce the unsustainable use of land, water and other resources in food production and agriculture sectors.
"Transforming food systems requires all hands on deck.
"Together, let's keep pushing for change. Let's transform food systems for the future and ensure that every person in every community and country has access to the safe and nutritious foods they need and deserve."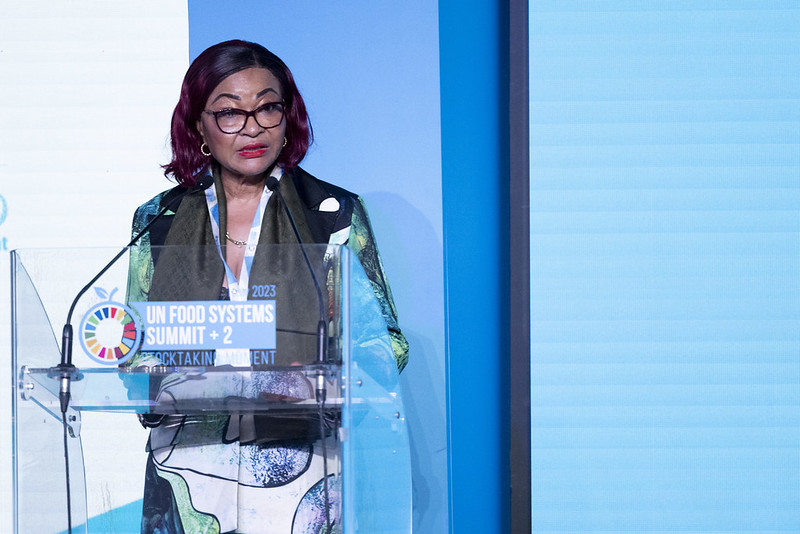 Prime Minister of Italy, Giorgia Meloni, added, ''For three days, Rome will become the Food Security Capital of the World: a choice that pays tribute to Italy's traditional commitment to this crucial issue. Food security has always been indeed one of the strategic guidelines of our foreign policy and a priority area of Italian development cooperation. And it has become one of the major challenges of our time, in this completely interconnected world.'' 
QU Dongyu, Director-General, Food and Agriculture Organisation of the UN (FAO), said that the UN food systems summit process had made it clear that agri-food systems held huge power and potential in contributing to the achievement of SDGs.
According to him, while there are still many challenges, progress has been made to identify the solution that agri-food systems can provide for better production, better nutrition, better environment and a better life to ensure that no one is left behind.
This solution, he said, depends on transforming global agri-food systems to be more efficient, more inclusive, more resilient, and more sustainable.
"In the face of increasing uncertainties and multiple crises, we need to urgently undertake this transformation to fulfil the high expectations we have from our agrifood systems."
He said that to accelerate progress, the world needed to leverage cross-cutting accelerators, adding that FAO was focused on four key areas.
These areas, he said include science and innovation, improved data capabilities, increased targeted and coordinated public and private finance, and establishing inclusive agri-food systems governance mechanisms.
"Unlocking the full potential of agri-food systems can only happen if we focus on these accelerators, to help minimise trade-offs and maximise synergies," he said.
The UNFSS+2 Stocktaking Moment features a comprehensive program, including a high-level opening segment, three high-level sessions, four plenary sessions, leadership dialogues, special events and side events. Information on the programme is available on the UNFSS+2 website.
The discussions will culminate in a Call to Action, identifying key priority areas for global focus over the next two years, including actions towards the actualization of policies leveraging food systems for better, more inclusive, and sustainable outcomes; mobilizing financing for the transition; building knowledge and capacity among food systems actors; enhancing global, regional and national collaboration for climate action; increasing access to science, technology and innovation; and advancing education, opportunities for decent jobs and social protection.
By promoting the latest evidence and successful models of action, this historic Stocktaking Moment is set to be a turning point in our collective journey towards an inclusive, equitable, healthy, sustainable, and resilient future, leaving no one behind.