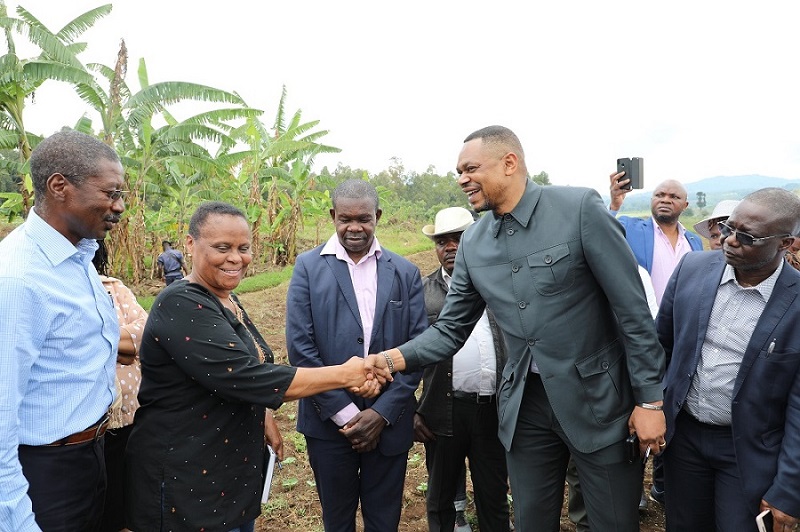 Technologies for the Transformation of Agriculture in Africa ​​(TAAT) is organizing a high-level workshop on the scaling up of agricultural transformation technologies in the Democratic Republic of Congo (DRC) from Monday 4th November 2019 through Wednesday 6th November 2019.
TAAT is a program funded by the African Development Bank (AfDB) in the context of its "Feed Africa" ​​strategy and is implemented by the International Institute of Tropical Agriculture (IITA) and a host of other specialised institutions.
Organized under the high patronage of the Ministries of Agriculture and Fisheries and Livestock, the workshop aims to establish and strengthen the partnership between the TAAT program and the initiatives for accelerated transformation and modernization of Congolese agriculture.
It also aims to identify interventions TAAT could make into current and future agricultural development initiatives that require high-performance technologies and best practices to increase the productivity of smallholder farmers in the DRC.
Key objectives
The workshop also aims to create synergy between TAAT activities and other initiatives in the DRC that require access to advanced and proven agricultural technologies. These initiatives are those supported by the AfDB or other technical and financial partners of the DRC, such as development finance institutions, bilateral and multilateral cooperation agencies and philanthropic organizations, in accordance with the National Investment Plan in Agriculture and Food Security (PNIASA) of the DRC.
Other objectives of the workshop include strengthening collaboration between TAAT activities and private sector actors who play a key role in providing technology products, services and know-how to smallholder farmers; identifying avenues for collaboration with private sector actors, local governments, producer associations, women's and youth organizations that play a key role in providing technology-based products, services and know-how to smallholder farmers and other actors in agricultural value chains; and identifying policy actions needed to create an enabling environment for large scale dissemination and use of agricultural technologies by smallholder farmers.
The workshop will bring together representatives of government ministries, experts from national research and regulatory institutions, universities, the African Development Bank (AfDB), the World Bank, the International Fund for Agricultural Development (IFAD), the World Food Program (WFP), bilateral development agencies, the United Nations Food and Agriculture Organization (FAO), UN Women and Coordinators of major projects in DRC's agricultural sector.
Agriculture in DRC
The agricultural sector in the Democratic Republic of Congo faces numerous technical, economic and institutional constraints, including low productivity in the crop, livestock and fisheries sectors, an insufficiently organized institutional framework to support agriculture with a shortage of human, technical and material resources, both at the central and provincial levels.
The TAAT Program is responding to broaden access of smallholder farmers in general, women and youth in particular, to proven agricultural technologies that increase production capacity, food and nutrition security but also and above all increase rural incomes.
The main objective of the TAAT program is to improve agricultural activities in Africa by increasing agricultural productivity, mitigating risks and encouraging crop diversification and value addition to agriculture in order to produce more food and reduce food importation, and create wealth and employment.