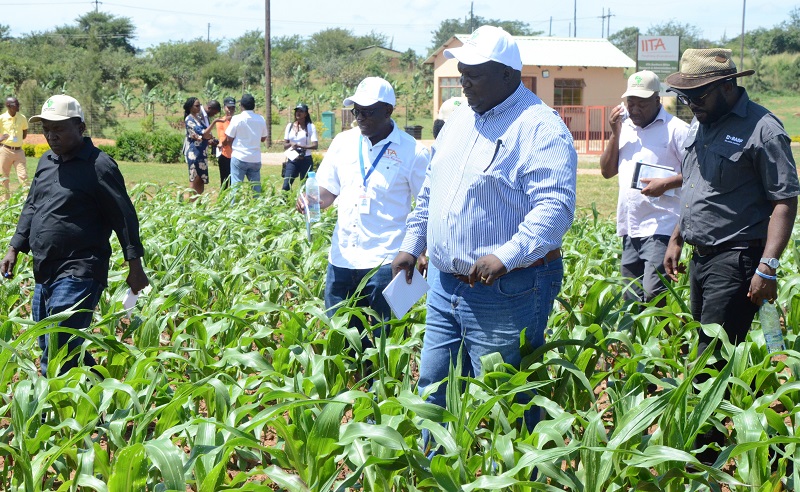 All roads led to the Southern Africa Research and Administration Hub of the International Institute of Tropical Agriculture (IITA) in Lusaka, Zambia, as stakeholders from across the sub-region converged on the campus to assess the relative performances of different Fall Armyworm (FAW) management technologies under validation.
Organised by the Fall Armyworm Management Compact of Technologies for African Agricultural Transformation (TAAT) on the 10th of March 2020, the technologies demonstration day created a platform for frank discussions on the progress made in coming up with sustainable and cost-effective Integrated Pest Management (IPM) technology toolkits for FAW management at the smallholder level.
The one-day meeting also provided an opportunity to distill participants views on how the technologies on display as well as others which are in use on-farm or have been recommended by various players are performing; and to proffer common position on the sustainable management of FAW in Zambia.
Sponsored by the African Development Bank (AfDB) as part of its Feed Africa Initiative, TAAT's main objective is to improve the business of agriculture across Africa by raising agricultural productivity, mitigating risks and promoting diversification and processing in 18 agricultural value chains within eight priority intervention areas.
The programme increases agricultural productivity through the deployment of proven and high-performance agricultural technologies at scale along selected nine commodity compacts such as high iron beans, sorghum and millet, maize, rice and wheat. Others are cassava, orange-fleshed sweet potato, livestock and aquaculture.
These work with six enabler compacts addressing transversal issues such as soil fertility management, water management, capacity development, policy support, attracting African youth in agribusiness and fall armyworm response.
The TAAT Fall Armyworm Management Compact is led by the International Institute of Tropical Agriculture (IITA).
In his opening remarks, Dr. David Chikoye IITA's Southern African Hub Director highlighted the importance of holding FAW Technologies Demo Day in 2020 which is also the International Year of Plant Health.
"Pest management is now a billion-dollar industry. We all need to discuss in an honest way the effectiveness of all the available FAW management technologies which have been deployed in the country and those that were being showcased by the FAW Compact," Dr. Chikoye said.
Addressing participants, which cut across representatives of Food and Agriculture Organisation (FAO), Zambia Agriculture Research Institute (ZARI), Centre for Agriculture and Bioscience International (CABI), and the University of Zambia, Dr. Peter Chinwanda, Coordinator of the TAAT FAW Compact, added that the demo plots showcases some FAW management technologies such as untreated control, maize intercropped with cowpea + sprays of Nimbecidine® (neem) as necessary and brofranilide (a new chemistry insecticide from BASF).
Others include Mythic® FN SC (chlorantraniliprole), Ampligo® (chlorantraniliprone + lambda cyhalothrin), and Prove® (emamectin benzoate).

"Compared to brofranilide, Ampligo® and Prove® where foliar damage was very minimal, Nimbecidine® was partially effective when applied to maize intercropped with cowpea. The cowpea itself is unlikely to have played any role in controlling FAW," Dr. Chinwanda said.
The second stopping point was a Fortenza Duo (FD) trial in which six treatments were under investigation.
This trial generated a lot of interest given the directive from the Zambian Government that all seed companies participating in the Famer Input Support Program (FISP) in the 2019/20 cropping season had to treat their maize seed with FD.
At 4 weeks after emergence, the plots that had Mythic® FN SC applied on top of FD-seed had the lowest FAW incidence and damage compared to the controls (untreated) and those where no chemical had been applied on top of the FD treatments.
While moving around in the different FD trial treatment plots, participants had the opportunity to see FAW egg masses on maize leaves. On one plant, participants saw an egg-larval parasitoid laying eggs on FAW eggs.

In his closing, Dr Chikoye, once again stressed the point that FAW has now come to stay and cannot be completely eradicated.
"Because of its damaging potential on maize and consequently impact on household and national food security, its sustainable management requires collaboration among all national stakeholders" the hub director averred.
"We now have more data on FAW than 2 years ago so we now need to revisit our previous recommendations on its management. IITA stands ready to work with Government, seed companies and agrochemical companies in finding IPM-based solutions for FAW," Dr Chikoye added.
Seed companies that graced the technologies demonstration day include BASF, Klein Karoo Seed Zambia, Kamano Seed, Osho Chemicals and Syngenta.