ABOUT THE COMPACT
Increased Aquaculture Productivity through TAAT
The Aquaculture compact of the Technologies for African Agriculture Transformation (TAAT) project is led by partners in focal (DR Congo, Ghana, Kenya, Nigeria and Zambia) and satellite (Burundi, Cameroon, Cote D'Ivoire, Republic of Benin and Tanzania) countries.
These partners comprise Private sector, Fish farmers' Associations, Research institutions, Government institutions and Non- Governmental organizations (NGO) which aim to disseminate proven Aquaculture technologies deployed by WorldFish.
The technologies disseminated to Aquaculture value chain actors include: Fast growing fingerlings of catfish and tilapia, mono-sex tilapia, quality low cost fish feed formulated using locally available raw materials, post-harvest techniques and improved rearing system. The technologies dissemination is accompanied with Better Management Practices such as fish handling, biosecurity, water quality management, raw materials selection, feeding techniques amongst several others.
Aquaculture sector is private sector driven. The compact engages the private sector as the off-taker of the technologies to disseminate to other fish farmers and operate as a business to ensure the sustainability of the technologies. Part of the compact activities in engaging partners and beneficiaries is active involvement in creating awareness and disseminating of the technologies to a wider reach through media.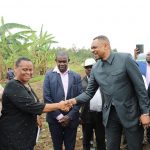 November 4, 2019
Technologies for the Transformation of Agriculture in Africa ​​(TAAT) is organizing...
Read More
TECHNOLOGIES BEING SCALED UP