INTRODUCTION
The High Iron Beans Compact is led by the International Center for Tropical Agriculture (CIAT) through partnerships in eight countries located in upland areas of Central, East and Southern Africa where bean production offers greatest opportunity. The bean technology toolkits are driven by the development of biofortified bean varieties, rich in iron, zinc, and lines increasingly resistant to root disease. They include both bush and climbing varieties. These varieties are disseminated by both commercial and community-based seed production. Seed dressing containing insecticide and fungicide, and inoculation with elite rhizobia are important accompanying technologies. Land preparation is improved through the use small-scale mechanization, and for climbing varieties through low-cost staking strategies employing locally gathered materials. Soil fertility is managed through the application of specialized fertilizer blends with little or no nitrogen and manures.
Technologies for African Agricultural Transformation
High Iron Bean (HIB) Compact
Pages: 2
Doc type: PDF
Size: 1.18MB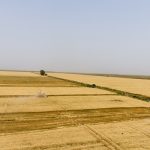 July 6, 2021
Science, research and innovation are essential to accelerate the transformation...
Read More
TECHNOLOGIES BEING SCALED UP