ABOUT THE COMPACT
TAAT: Facilitating Farmers to Increase Maize Yields to Ensure More Food And More Cash From Sale of Surplus
Maize is one of the most important staple crops in Africa on which an estimated 300 million people depend. However, several challenges severely undermine maize production, including drought, diseases and insect pests such as the Fall Army Worm (FAW).
Fortunately, many proven technologies such as climate smart maize technologies, pest and disease tolerant varieties among others, have been developed by researchers worldwide to address some of these challenges.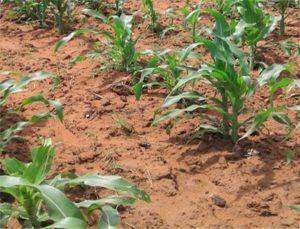 Facilitating their delivery to farmers, at scale, still presents a challenge as many African farmers need to be facilitated to access agricultural credit in order to eliminate their capital constraints. In view of this, the TAAT Maize Compact embarked on activities to facilitate access and use of Water Efficient and other climate smart maize varieties in 14 pilot countries across the Sub-Saharan Africa.
In addition, the Maize Compact has also partner with FAW Emergency Compact to address the Fall Armyworm menace and foster innovative linkages to facilitate credit and finance options for farmers. During the past one year, remarkable traction was gained including successes highlighted below
Scale out of Climate Smart Maize Hybrids
The TAAT Maize compact innovatively engaged the private and public seed companies to facilitate the production and marketing of more climate smart hybrid Maize seeds compared to the previous seasons.  A smart incentive system was developed, to boost the production and marketing of extra tonnages by seed companies, with technical backstopping from the TAAT Maize Compact.
The Maize Compact signed collaboration agreements with over 30 seed companies, who produced over 27,094 tonnes of climate smart Maize hybrid seeds. It is estimated that this seed is to be deployed to about 2.6 Million farmers between July 2018 and April 2019 to plant approximately 1,083,760 Ha in the respective cropping seasons in the target Countries.
Further, to create more awareness and demand for these proven technologies, the TAAT Maize Compact supported seed companies to establish over 3,403 technology demonstration plots, conduct 482 field days and distribute over 97,700 small packs for promotional purposes. The varieties, with accompanying technologies and training on good agronomic practices from TAAT Maize team and partner seed companies are expected to lead to surplus maize production in the current season leading to food and income security of target farmers.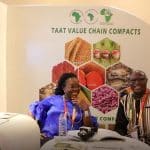 September 4, 2019
Technologies for African Agricultural Transformation has restated its commitment to...
Read More
TECHNOLOGIES BEING SCALED UP