ABOUT THE COMPACT 
The Cassava Compact is led by IITA with partnerships in 15 countries of Central, East, Southern and West Africa. A staple to about 350 million people in sub Saharan Africa, cassava had been declared in 2003 by African Heads of State as a poverty fighter. However, the crop is yet to prove its mettle as millions of growers in sub Saharan Africa who depend on the crop for their livelihoods are still below the poverty line. Some of the reasons behind the poor performance of cassava and indeed several other crops is poor productivity, low value addition, inability of farmers to access improved varieties and market. Consequently, Africa's cassava productivity per ha is less than 10 tons per ha compared to Asia where productivity is more than 20 tons per ha. Africa is the world's leading cassava producer but the crop is widely regarded as a food for the poor rather than a substrate for value-added food and industrial starch production. As a result, few cassava products from Africa are traded on world markets and this Compact seeks to rectify this shortcoming by intensifying cassava's production and processing. Stalling cassava's progress was its susceptibility to a number of serious virus diseases but after decades of research, tolerant varieties and management systems are now in place. These new varieties are also selected on the basis of their higher dry matter and starch contents and some represent biofortified yellow (vitamin A) traits.
Since 2018, TAAT through the Cassava Compact has begun addressing the limiting factors to cassava transformation using a holistic and multi-stakeholder approach that brings on board researchers, extension service providers, development practitioners, input dealers, information service providers, processors and farmers etc across the cassava value chain. Unlike previous dissemination efforts, Cassava Compact's strategy of technology delivery is driven by delivery and dissemination experts and backstopped by researchers drawn from national systems and the International Institute of Tropical Agriculture (IITA).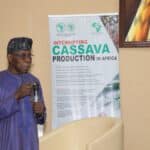 September 9, 2022
Nigeria's former President, Chief Olusegun Obasanjo has underlined the importance...
Read More
TECHNOLOGIES BEING SCALED UP