Across Africa, farmers' access to agricultural advisory services is limited due to weak extension systems. This is even worse with the COVID-19 pandemic where there have been restrictions on travel and gatherings. To close this gap, the Cereal Growers Association (CGA) has introduced the Farmers Service Center (FSC) model – aimed at training champion (lead) farmers in different communities tasked to work closely with farmer groups.
The FSCs model is about last mile delivery of extension service to the farmers. It entails empowering trainers of trainee within the community to bridge the gap of poor extension services. The FSC serves as a one stop shop in the surrounding farming community, run by a community mobilizer or group, and providing agricultural extension support, inputs and other services to the community.
The FSC plays a crucial role in addressing the challenges of access to inputs and information at the production hubs of the bean corridors.
On this bright afternoon, we meet John Koilegen, a lead farmer at Kuseli Self Help Group in Kisiriri, Eor Enkitok, Narok taking farmers through the ABC of good agronomy for improved yields. John is one of the lead farmers trained by (CGA) and empowered to be a trainer at the community level bringing the FSC model to life.
John takes time to explain and demonstrate to the farmers the importance of using improved seed, managing weeds and ensuring the crops are properly nourished. Today, his training is focused on the importance of growing the new high iron and zinc beans (Nyota, Angaza and Faida).
The group comprises of 56 members of which 20 are males and 36 females with 13 being young girls and boys. This group was introduced to the new high iron and zinc beans by CGA through an initiative by the Pan Africa Bean Research Alliance (PABRA) and the High Iron Beans Compact of Technologies for African Agricultural Transformation (TAAT).
Sponsored by the African Development Bank as part of its Feed Africa Initiative, TAAT's main objective is to improve the business of agriculture across Africa by raising agricultural productivity, mitigating risks and promoting diversification and processing in 18 agricultural value chains within eight priority intervention areas.
The programme increases agricultural productivity through the deployment of proven and high-performance agricultural technologies at scale along selected nine commodity compacts which include High Iron Bean.
These work with six enabler compacts addressing transversal issues such as soil fertility management, water management, capacity development, policy support, attracting African youth in agribusiness and fall armyworm response.
Led by Alliance of Bioversity International and CIAT, the TAAT High Iron Bean Compact's interventions build on the Pan Africa Bean Research Alliance (PABRA) model and the "Bean Corridor" as a market-driven approach to transformation at scale
Even though this is predominantly a wheat and maize zone, farmers are attracted to grow beans to supplement their protein needs and earn extra income. The biofortified beans with higher iron and zinc were incredibly fascinating to farmers as besides protein; they provided additional health benefits like reduced anaemia especially in women of reproductive ages, improved physical and mental development of children and enhanced immunity especially now with the pandemic.
In the first season, John planted the new beans and the harvest was bumper. He said "I was introduced to three other bean varieties – Angaza, Faida and Nyota by Mr. Collins Leboo from CGA.
The crop did well, and I kept the 'magic beans' as seed for the coming season while I shared some with farmers that I work with. For every 2kg planted for each variety, I harvested 36kg for Angaza, 40kg for Faida and 45kg for Nyota". This translates to 18-22kg for every kilogram of bean seed planted.
Of the three varieties, Nyota was found to be early maturing – 60 days, with the Faida and Angaza taking slightly longer 80-90 days. The early maturity, combined with the high yield of Nyota has made it one of the most demanded beans among the three. Faida beans being large seeded and red mottled was also rated highly for trade. Besides the three new bean varieties, John also planted Chelalang, and Canadian Wonder – considered as old bean varieties are commonly grown in the area.
Despite the impressive outcome from growing the new varieties, the farmers noted other challenges such as high incidence of aphid infestation and high rainfall during the season, which lowered their final production. Such experiences call for continuous learning to adapt and build resilience.
Beyond the experience with the varieties, the group has been trained on the use of organic and inorganic fertilizers to improve soil fertility. Before, farmers in the area have used diamonium phosphate (DAP) – a fertilizer considered as acidifying the soil.
With new learning and linkages to new plant nutrition solutions, the farmers are shifting to other fertilizer blends and compositions that are less soil acidifying and which supply multiple nutrients including essential micronutrients Zinc and Sulphur, critical for proper crop development.
Other technologies these farmers have been exposed to include seed dressing meant to protect the seed from pathogens and insect attack during early stage development, weed management using herbicides and integrated pest and diseases management options.
The famers have also been trained on safe use of agrochemicals. Thus, the farmers under John's wings are guaranteed to improve their farm productivity, thanks to the learning and access to inputs through the FSC.
John's passion in growing beans is evident and most of the farmers in the group look up to him for support. After testing the performance of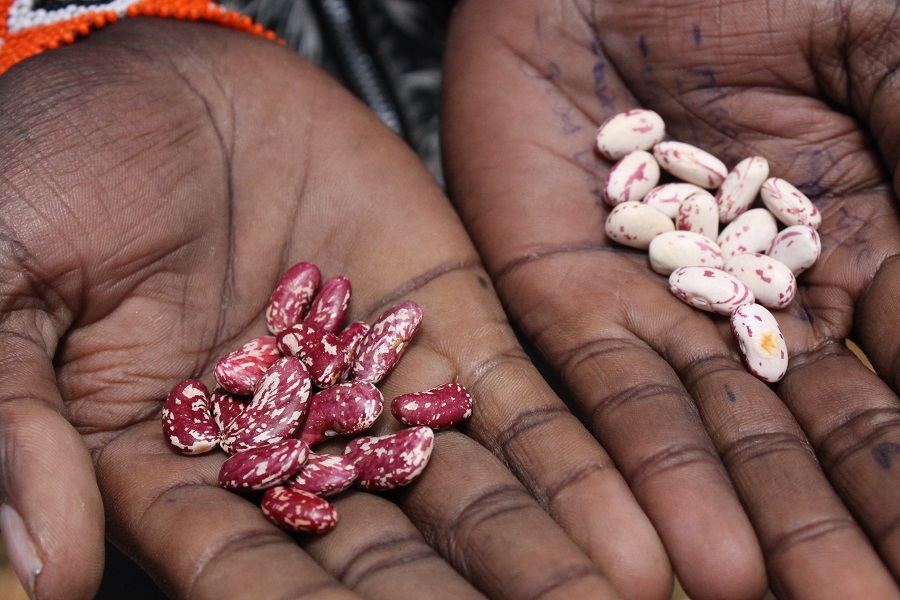 the beans and being impressed by their performance, more farmers are requesting for seed to grow these varieties during the coming season starting in October. "Our target is at least 1 acre per farmer and we target 100 acres of beans", he said with confidence.
Part of the harvested beans will be recycled to plant next season even as the farmers buy new certified seed to grow their production area. Already farmers had pooled together USD 750 equivalent to purchase 300 kg of certified seed enough to plant 15 acres!
'Farmers need timely access to inputs and the right agronomic information to boost their bean production' says Dr. Boaz Waswa, Senior Scientist with Alliance of Bioversity International and CIAT. 'Bundling inputs and extension advisory services at FSC is an innovative strategy for last mile delivery of extension services to farmers that promises to boost production of beans', he observes.
Eileen Nchanji, Gender Specialist with Alliance of Bioversity International and CIAT acknowledges the important role played by women and youth in bean production in this group. She emphasizes the benefit of involving the whole household in farming and sharing the benefits equitably after sales. For a household that works together, shares the benefits together.
It is about sunset, yet the interest from the farmers to learn and share their experiences is still at its peak, but we have to leave. The farmers point to the increase in the spread of the safari ants and tell us that this is an indicator of the rains starting soon, so we need to move fast with the planning.
We commit to continually engage and plan for the short rains production and many others.
By Patricia Onyango, Boaz Waswa, Eileen Nchanji and Josey Kamanda