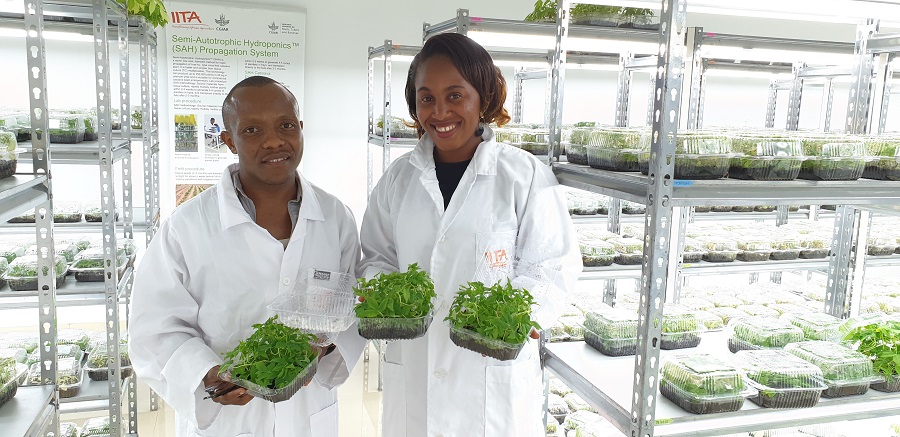 The major challenge of cassava production in Central Africa, particularly the D.R Congo, is the lack of a sustainable seed system.
The inherently low multiplication rate of the crop as well as lack of clean planting materials due to pest and disease pandemics have led to persistent low cassava yields.
Unlike maize, wheat, rice and other grain-legumes, commercial seed producers of certified seeds for cassava do not exist in DR Congo, posing a significant bottleneck to scaling up of improved cassava varieties bred by the research centers.
Technology-driven seed bulking
To address this, the African Development Bank, through the Cassava Compact of Technologies for African Agricultural Transformation (TAAT) adopted two parallel and complementary approaches to increasing farmers' access to planting materials of virus-free modern cassava varieties – through Seed Bulking Farms in the Western areas of Congo, and the deployment of Semi Autotrophic Hydroponics (SAH) technology for the Eastern part of the country.
These were initiated with a view to developing a sustainable seed system for cassava in the country.
With the objective of delivering healthy, clean and adequate cassava planting materials to farmers, TCC obtained a license from SAHTECHNO through a project partner (GoSeed Ltd). With the license, the compact was able to set in motion, the process for deploying Semi-Autotrophic Hydroponics (SAH) technology for the rapid propagation of cassava in the DRC.
Technical staff of International Institute of Tropical Agriculture (IITA) and l'Institut National des Etudes et Recherche Agronomiques du Congo (INERA) were trained on the new rapid multiplication technique. A Cassava Bulking Facility (CBF) where the new technique is applied to produce cassava plantlets, was jointly funded and established in Bukavu, Eastern Congo by IITA, in collaboration with the Integrated Agricultural Growth Program in the Great Lakes (PICAGL).
Through this, cassava plantlets are transferred directly to the field to produce healthy cassava stems within three months of multiplication in the CBF.
By 2019, 365,000 plantlets have been produced and transferred to the field in Congo. The current cassava bulking facility (60 M2) can produce more than 60,000 clean and healthy cassava plantlets per month. The annual production is 720,000 cassava plantlets, producing up to 36 hectares of cassava stems during the first year of production.
In the CBF, two approaches are used to produce cassava plantlets. A one-month plantlets growth-phase and three-month growth-phase, before field transfer.
Outcome and impact
Two TAAT Cassava Compact partners have established seed farms in Western Congo. A total of 13.2 hectares have been established by Projet pour le Développement Intégral de la Rive Droite (PDIRD) and PDIRD at Tshopo and 5 hectares by Comité Local de Développement (CLD) de Nkolo.
With the help of these projects, two thousand out-grower farmers were registered for 2020 multiplication activities and the 10 hectares of the seed-stock will plant 100 hectares of seed farm in 2020. The National Seed Service (SENASEM) inspects and certifies the seed farms.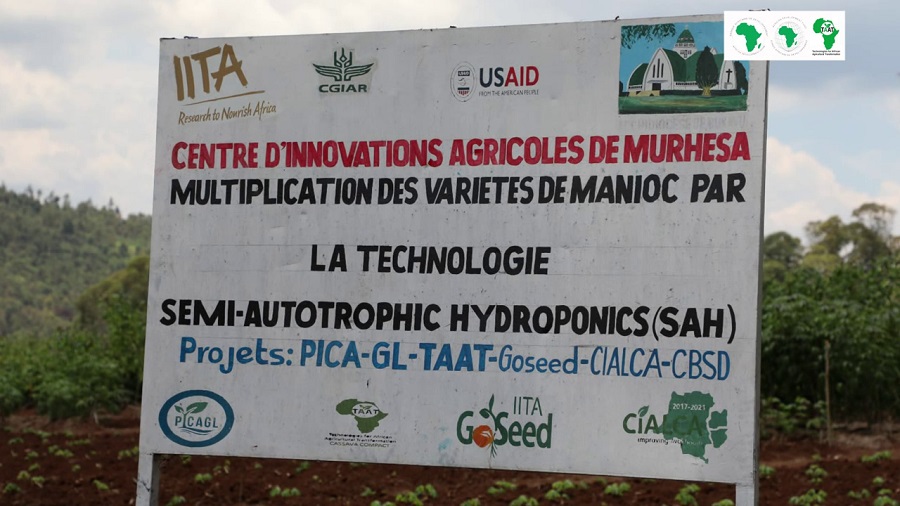 According to Dr. Adebayo Abass, TAAT Cassava Compact Leader, the achievements recorded in DR Congo through these approaches are in line with the objectives of TAAT's intervention in cassava. These objectives, according to the leader, include raising farm-level productivity, improving the efficiency of processing, increasing market opportunities for smallholders, and catalysing private-sector investments.
TAAT is an integral part of the Bank's Feed Africa strategy that is harnessing elite scientific research/technologies and disseminating same at scale to African farmers. It's main objective is to improve the business of agriculture across Africa by raising agricultural productivity, mitigating risks and promoting diversification and processing in 18 agricultural value chains within eight Priority Intervention Areas (PIA).
The programme increases agricultural productivity through the deployment of proven and high-performance agricultural technologies at scale along selected value chains which include cassava.
The TAAT Cassava Compact is led by the IITA in about 18 African countries.