INTRODUCTION
Youth in Agribusiness Compact (ENABLE-TAAT) is led by the International Institute of Tropical Agriculture (IITA) through its youth in agribusiness initiative. It links the ambition and enthusiasm of youth to the planned modernization of several strategic commodity value chains; rice, wheat, maize, sorghum and millet, cassava, sweet potato, bean, fish and small livestock, in a manner that reduces food imports, increases value addition, and achieves nutritional security in Africa. It connects youth to the process of agricultural transformation necessary to secure economic prosperity through youth-led agribusinesses. The project operates in 19 African countries with a goal of reducing the economic marginalization of African youth through the introduction of modernized agricultural technologies in a way that leads to new agribusinesses and greater employment opportunities.
ENABLE-TAAT in Brief
Pages: 12
Doc type: PDF
Size: 11MB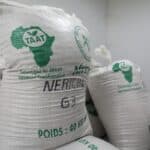 July 20, 2022
The African Development Bank is set to release an additional...
Read More
TECHNOLOGIES BEING SCALED UP