ABOUT THE COMPACT
ENABLE-TAAT, as one of the 15 compacts of the Technologies for African Agricultural Transformation (TAAT) program, has become an integral part of the six 'Enablers' which serves as a link in bridging the gap, and offering specialized services in the dissemination of modern agricultural technologies being championed along the selected commodity value chains of TAAT.
Led by the Youth in Agribusiness office of the International Institute of Tropical Agriculture (IITA), the ENABLE-TAAT compact is providing Capacity Building and Technical Assistance for the establishment and expansion of youth-led agribusiness enterprises along the value chains of seven commodities (beans, cassava, fish, maize, poultry, rice and orange fleshed sweet potato) out of the nine commodity value chains of TAAT.
The activities of the compact cuts across Agribusiness Completion, Agribusiness Incubation, Youth Advocacy and communication, Youth Registration, and Food Basket Outreach across six countries in Africa- DR Congo, Kenya, Nigeria, Tanzania, Uganda and Zambia during year 1 of the program.
Each of the highlighted activities is intertwined in a way that the actions or activities from one component results to the output of the other and vice-versa.
For instance, it is necessary to build the capacity of young people along the TAAT commodity value chains in order to prepare them to embrace the technologies, adopt and disseminate by establishing an agribusiness enterprise and creating jobs for others. The successes of the technologies disseminated by the youth are needed to be communicated to a larger audience in order to advocate for partnerships with the private sector, to create awareness etc.
The agribusiness completion component avails the compact the opportunity to identify unemployed young graduates who have the will of establishing youth-led independent agribusiness enterprises and creating jobs using some of the technologies under TAAT.
These young people are trained and offered technical support to establish their businesses. Interactions with some of the youths who have benefitted from the compact revealed that many of them initially had negative perception about agriculture but realized the economic benefit of venturing into agribusiness through the support provided by ENABLE-TAAT.
The trained youths prepared and submitted agribusiness investment plans which were reviewed by a team of experts from EKIMIKS Nigeria Limited, a private business firm that provides business development consultancy services.
After the pitching and review of the business plans, 56 potential agribusiness enterprises were selected based on key business elements like; perceived profitability, viability and sustainability, return on investment, and technological impacts of the agribusiness enterprises on livelihoods, food production and safety across the continent.
These pitching exercises were very helpful in refining the agribusiness ideas, sharpened the skills of the agripreneurs and guided them on operating the businesses while mentoring and other support was made available to the businesses.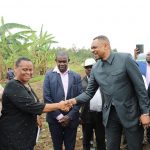 November 4, 2019
Technologies for the Transformation of Agriculture in Africa ​​(TAAT) is organizing...
Read More
TECHNOLOGIES BEING SCALED UP