INTRODUCTION
The International Water Management Institute (IWMI) led Water Enabler Compact (TAAT-WEC) stands uniquely as a pillar for meeting water needs in crop production systems.  IWMI – whose mandate is to ensure a water secure world – has committed to making its proven irrigation and water management technologies available on a massive scale to lift smallholder farmers across Africa out of poverty.
Crop cultivation in Africa is largely rain fed. Small-scale farmers depend on rainfall and climate variability and change lead to reduced productivity or entire crop loss. Securing water resources for agriculture is key to increasing resilience of African farmer's. In irrigation schemes over-irrigation leads to lower crop yields, to water scarcity and reduced crop yields elsewhere, and to environmental degradation. TAAT-WEC irrigation technologies contribute to increased water productivity. We aim at optimizing the use of scarce water resources to maximize crop yields. Our interventions contribute to increased production, that contributes to increased income and food security of the rural population.
Technologies for African Agricultural Transformation – Water Enabler Compact (TAAT-WEC)
Pages: 4
Doc type: PDF
Size: 2.21MB
Affordable and efficient irrigation and water conservation solutions for farmers in Africa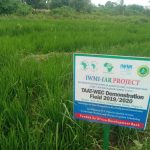 May 12, 2020
Ayuba Abimiku, a young rice farmer at Gidan Mai-Akuya...
Read More
TECHNOLOGIES BEING SCALED UP