January 15, 2019
Fall Army Worm Emergency Response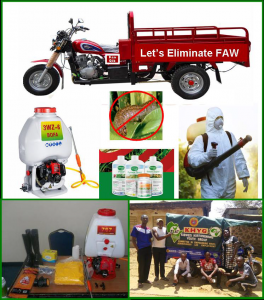 This action operates through one of the TAAT Enablers (the FAW Compact) and is specifically intended to build the capacity to counteract the biological invasion of FAW across Africa. It is led by IITA with strong partnerships with several Advanced Institutes, starting with five piloting countries located in East, Southern and West Africa in 2018. It is closely allied with the Maize Compact.
FAW (species name: Spodoptera frugiperda) is suddenly a major threat to food security in Africa. This highly destructive pest is native to Tropical America and was first detected in Africa in January 2016 in Nigeria. It has since spread to 38 countries across Africa and has exhibited a wide host range of over 80 plants with preference for cereal crops, particularly maize. Included within this effort is the FAW Rapid Response for which a toolkit was devised and distributed. This action links youth, product manufacturers and agrodealers to the war on FAW by providing practical, mobile solutions to invasion outbreaks, and provides a business model for diversification of agribusiness services in maize production areas. It establishes Rapid Response units operating out of commercial locations and community-based organizations, with each unit consisting of two to four trained youth.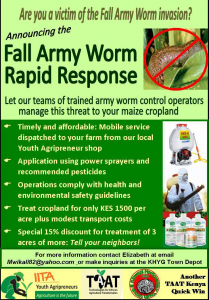 The toolkit consists of a customized cargo tuk-tuk, power sprayers, state-of-the art safety equipment, bio-rational pesticides, farmer information materials and communication tools. These units work in conjunction with local agrodealers, farmer groups, county extension and local representatives of input distributors. Training is an important element of this toolkit so a one-day course on FAW Rapid Response was developed that contains seven modules:
Fall Army Worm control as a business opportunity;
Understanding the Fall Army Worm invasion;
Control options and access to rapid response equipment and supplies;
Operation and maintenance of control equipment;
Commercial partnership and enterprise establishment;
Costs and expected returns; and
Agripreneur youth as rapid responders within local communities and agrodealer networks.
These courses have proven to not only prepare operators for efficient and safe FAW control, but also galvanize local commitment and investment in this toolkit. FAW control services are offered for about $45 to $55 per ha and initial demand for them is very strong among farming communities severely affected by FAW invasion. But an unresolved issue remains: to what extent should these costs be borne by individual farmers as opposed to wider programs that view FAW suppression as a necessary public good?