May 27, 2023
TAAT Explores Agribusiness Opportunities to Enhance Partnership and Youth Engagement in Somali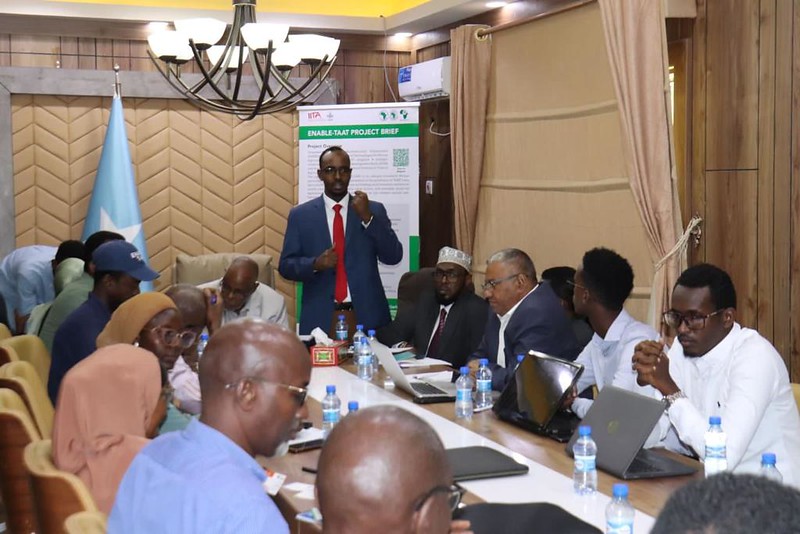 In pursuit of its mandate to stimulate the establishment of youth-led agribusiness enterprises along commodity value chains, a team of experts from Sorghum and Millet, and the Youth in Agribusiness Compacts of Technologies for African Agricultural Transformation (TAAT) were in Mogadishu, Somalia, recently.
The visit, which began on the 21st of May 2023, recorded fruitful engagements with the government of Somalia, the private sector and other stakeholders on the imperatives of transforming the country's food system. The visit equally presented opportunities to engage and assess the needs and challenges of the Somali youth in agribusiness and identify critical stakeholders that will drive project implementation.
The TAAT team was led by Dr Dougbeji Fatondji, the TAAT Sorghum and Millet Leader and Noel Muliganya, the TAAT Youth in Agribusiness Compact Leader.
The team met with the Minister of Agriculture and Irrigation, H.E Ahmed Mathobe, and his dedicated team, including Ms. Sowda Mire Osman, Director of Agribusiness, Cooperative Development and Food Reserve, Mr. Ahmed Kenan, Senior Advisor on Agriculture, and Mr. Abdullahi Abdi, Technical Adviser to the Minister.
During the meeting, the Somali officials extended their support and cooperation to the TAAT team, facilitating their objectives during the visit. The Ministry representatives, stakeholders, and youths involved in various agribusiness activities also presented their challenges and perspectives during the visit.
The team equally visited several key facilities earmarked for incubation activities. These included Somali National University, Zam Zam University of Technology, and FILSAN, a seed production company. At Somali National University, the team met with the heads of Plant Breeding, Agronomy, and Crop Protection, gaining insights into their research laboratory and the availability of land for demonstrating new varieties.
At Zam Zam University, the team was briefed on the various technologies being promoted, as well as ongoing field activities such as the poultry egg hatchery unit. These visits provided valuable opportunities to assess how the current activities align with the objectives of the TAAT Youth in Agribusiness and Sorghum and Millet Compacts, specifically in relation to Somali youth.
According to Noel Mulinganya, "the visit proved to be a fruitful endeavour, strengthening partnerships, identifying opportunities, and fostering collaboration between TAAT and the Somali government."
"The insights gained and the relationships formed during this visit will contribute to the advancement of agribusiness and youth empowerment in Somalia, ultimately working towards sustainable agricultural development in the country through partnership," the Youth in Agribusiness Compact Leader added.