January 29, 2019
TAAT FALL ARMYWORM COMPACT
ABOUT THE COMPACT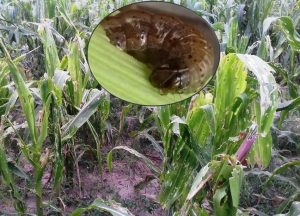 Since its advent in Africa in early 2016, the Fall armyworm (FAW), Spodoptera frugiperda has become the most damaging insect pest of maize in sub-Saharan Africa and is a threat to national and regional food security particularly in regions where maize is the stale food crop.
Farmers' attempts to reduce the pest populations to non-damaging levels have not been successful owing to several factors, e.g. FAW's very wide host plant range, lack of a resting stage, migratory behaviour, propensity to develop resistance to conventional chemical pesticides, and lack of a coordinated continent-wide pest response strategy.
The fact that FAW is new to Africa has not helped matters as a significant amount of research has to be done first in order to come up with effective management strategies.
The current approach to FAW by the TAAT Program is a culmination of initiatives which were kick-started by FAO in early 2017. In Feb 2017 (14-16th), FAO, in collaboration with SADC and the International Red Locust Control Organization for Central and Southern Africa (IRLCO-CSA) set the ball rolling by organizing a Southern and Eastern Africa Regional Technical Meeting in Harare, Zimbabwe, to discuss Regional Member Countries' preparedness and response actions to emerging high impact transboundary crop and livestock pests and diseases.
FAW was a key pest, which came under discussion during the meeting. This meeting was followed by a technical meeting in Nairobi in April 2017 (25-26th) to discuss SADC Member States' strategic plans on FAW, research needs and comprehensive management strategies. This meeting was organized back-to-back with the All Africa Stakeholder Consultative Meeting of FAW in Africa (April 27th-28th) which was convened to review the status of the invasive pest and discuss strategies for its effective management.