The TAAT programme seeks to facilitate widespread and large-scale deployment of proven productivity enhancing agricultural technologies in Africa. This process is often hindered by a range of policy, regulatory and institutional bottlenecks. These are weak and inefficient seed systems governing variety release, certification and registration; deficiencies in the policy and regulatory environment resulting in slow domestication and implementation of regionally harmonized seed regulations across the four major RECs in Africa (COMESA, ECOWAS, SADC and EAC); inadequate supply of quality seed and other important agro-inputs (fertilizer, pesticides) with high incidences of fake agro-inputs; and weak and non-competitive agricultural value chains and low inter-Africa agricultural trade. To address these challenges in a wholistic manner, the programme established the Policy Enabler Compact. Led by African Agricultural Technology Foundation (AATF), the TAAT
Policy Enabler Compact is implementing a four-pronged approach organized around four work streams namely seeds policies that deliver certified seeds at scale, accreditation of agro-input suppliers, harmonization of regional variety release and registration, and policy reforms to facilitate performing value chains.
TAAT Policy Enabler Compact: Facilitating the creation of an Enabling Policy Environment
in support for Technology Deployment in Africa
Pages: 2
Doc type: PDF
Size: 397KB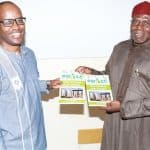 April 12, 2022
 With sights set on improving the resilience of about 130...
Read More