ABOUT THE COMPACT
The Capacity training and development Forum for Agricultural Research in Africa (FARA) undertakes capacity building at all levels within partner institutions and within the Priority Intervention Areas (PIAs) and their value chains. FARA ensures that the thematic content of capacity development activities and modules are designed and administered in consultation with appropriate and qualified entities, including relevant and participating CGIAR Centers. FARA also undertakes its activities in consultation with each program initiative team and report to the Clearinghouse. An Activity Plan for each initiative will provide detailed work plans.
March 20, 2019
Scientists and other experts in agriculture are meeting in...
Read More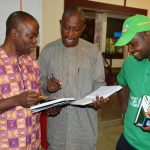 November 25, 2018
While proven innovative technologies undergo their proof of concept for...
Read More
TECHNOLOGIES BEING SCALED UP