Hybrid rice: A new opportunity for Africa
Pages: 2
Doc type: PDF
Size: 668KB
variety AR051H and this variety was named ISRIZ-9 in Senegal. This variety is aromatic and has a high yield potential (10 to 13 t/ha) and very good organoleptic qualities. AfricaRice currently has a wide range of hybrid lines that adapt to African conditions with short, medium and long cycles according to needs.
Le riz hybride: Une nouvelle opportunité pour l'Afrique
Pages: 2
Doc type: PDF
Size: 662KB
Le riz hybride : Opportunité pour la création d'emploi et l'augmentation de revenu pour le monde rural et l'entreprenariat Le travail spécialisé requis pour la multiplication et la production des semences des variétés hybrides crée des emplois ruraux et engendre des revenus supplémentaires pour le monde rural.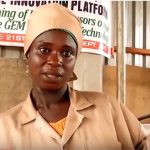 February 8, 2020
The Bukan-Sidi-Lafia multi-stakeholder rice Innovation Platform (IP) in Lafia, Nasarawa...
Read More