Hybrid rice: A new opportunity for Africa
Pages: 2
Doc type: PDF
Size: 668KB
variety AR051H and this variety was named ISRIZ-9 in Senegal. This variety is aromatic and has a high yield potential (10 to 13 t/ha) and very good organoleptic qualities. AfricaRice currently has a wide range of hybrid lines that adapt to African conditions with short, medium and long cycles according to needs.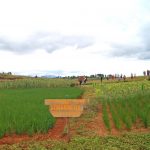 October 15, 2019
The demand for rice in Africa is growing as a...
Read More