Within the first six months of implementation, the TAAT small livestock compact has undertaken public private partnership projects on livestock technology scaling activities in Ethiopia, Mali and Nigeria that has benefited nearly 250,000 livestock farmers.
In Ethiopia, the compact is providing through private sector, business and technical capacity training support to Ethio-chicken agents in Oromia and SNNPR regions. Through this support, Ethio-chicken has distributed over 1.35 million chickens to about 100,000 households in Oromia region. The combined activities under sheep fattening, fodder production and high-quality cassava peels mash has reached another 50,000 beneficiaries.
Cumulatively, the deliverables for the Feed resources and sheep Fattening Technologies partners include:
1 million chickens distributed to 100,000 households in Ethiopia.
Prepare 5, 000 m2 of land for fodder nursery
Plant 50,000 sqm (50 Ha) of dual-purpose forages
100 tons of forages as feed Produce and conserved as livestock feed.
10,000 small ruminants fattened
Produce 2,000 kg of 4 varieties of forage seeds for next year planting.
Reach 50,000 livestock farmers with the technology for improved feeds and forages.
Train 5,000 agropastoralists as model farmers on handling improved forages seeds, planting, harvesting and fodder conservation.
250 demonstration plots established in Mali and Ethiopia.
35 million chickens distributed to 100,000 households in Oromia region, Ethiopia.
~500,000 USD generated from sale of 2,000 sheep and 750 cattle fattened in Ethiopia.
Sheep fattening youth business training on Ethiopia Regional television reach at least 2.5 million farmers. https://youtu.be/XCWj2gqiEgo?t=129 Awaiting English translation.
25 Master Trainers (12 women) from 8 East African Countries trained on livestock technology scaling. Some of the training slides https://www.slideshare.net/ILRI/faoilri-niyi , https://www.slideshare.net/ILRI/faoilri-niyi2
At least 3.5 million Ugandan farmers sensitized on Livestock technology scaling via broadcast on Uganda Broadcasting corporation. FAO-TAAT Master trainers activities. On-going activities.
5,000 sqm nurseries and 150 fodder demonstration plots established.
5 Tons of forage and dual-purpose seeds distributed to farmers.
50,000 Sqm of forages and dual-purpose legumes plots established
3,500 agropastoralists trained on harvesting, handling and storing fodder feeds.
35 Tons of dual-purpose forage biomass harvested (harvesting still in progress).
250 agropastoralists trained as trainers in Mali http://u.osmfr.org/m/240976/
Feed and Forages
FAO – Training of Master trainers on Livestock Technologies
ILRI, Ethiopia, Mali, Nigeria
Malian Awareness Association for Sustainable Dev. (AMEDD) – Mali – Local NGO
Catholic Relief Services (CRS) – Mali – International NGO
USAID – MLST – Mali.
Inter-Aide Ethiopia
Africa Rising Ethiopia
CIAT – Ethiopia.
Sheep fattening partners.
ICARDA – Ethiopia
ILRI Ethiopia.
Turner Wright – Nigeria.
Kibwezi Hortipreneur Group – Kenya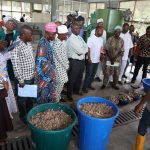 May 12, 2019
Aimed at turning cassava waste into wealth, the Oyo State...
Read More
TECHNOLOGIES BEING SCALED UP