Food Security for the Sahel through Sorghum and Millet
Pages: 8
Doc type: PDF
Size: 5.17MB
The Sorghum & Millet compact is one of the nine value chains of the African Development Bank (AfDB)-funded Technologies for African Agricultural Transformation (TAAT) initiative. TAAT includes sorghum & millet, maize, cassava, rice, beans, wheat, Orange Fleshed Sweet Potato (OFSP), aquaculture and livestock and six Enabler Compacts, namely Youth, Water Management, Soil Fertility, Policy, Capacity Development and Fall Army Worm (FAW) control.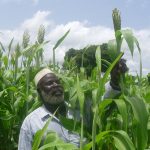 April 28, 2019
By Agathe Diama The Sorghum and Millet Compact of Technologies...
Read More
TECHNOLOGIES BEING SCALED UP