Food Security for the Sahel through Sorghum and Millet
Pages: 8
Doc type: PDF
Size: 5.17MB
The Sorghum & Millet compact is one of the nine value chains of the African Development Bank (AfDB)-funded Technologies for African Agricultural Transformation (TAAT) initiative. TAAT includes sorghum & millet, maize, cassava, rice, beans, wheat, Orange Fleshed Sweet Potato (OFSP), aquaculture and livestock and six Enabler Compacts, namely Youth, Water Management, Soil Fertility, Policy, Capacity Development and Fall Army Worm (FAW) control.
SORGHO ET MIL : Engagement de TAAT pour la sécurité alimentaire au Sahel
Pages: 1
Doc type: PDF
Size: 6.11MB
Le compact Sorgho et Mil est l'un des compacts financés par le Programme 'Technologies pour la Transformation de l'Agriculture Africaine' (TAAT) de la Banque Africaine de Développement (BAD). Objectif : Améliorer la sécurité alimentaire et nutritionnelle ainsi que les moyens de subsistance des ménages agricoles de 07 Pays sahéliens à travers l'intensification durable et l'amélioration de la rentabilité de la chaîne de valeur du sorgho et du mil.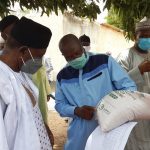 June 12, 2020
Farmers across 13 states in Nigeria are set to...
Read More
TECHNOLOGIES BEING SCALED UP