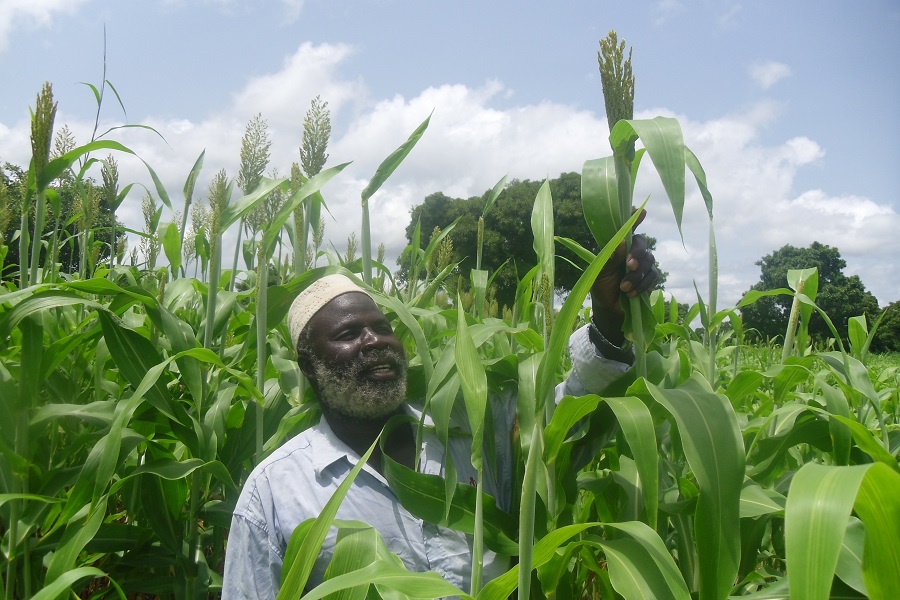 By Agathe Diama
The Sorghum and Millet Compact of Technologies for African Agricultural Transformation (TAAT) has successfully concluded its 2019 inception and planning meetings in Mali and Senegal.
These meetings are in line with the objective of contributing to food and nutrition security in seven countries in the Sahel and to improve farmer livelihoods,
With a bold plan to link last-mile populations to value chains, the Sorghum and Millet Compact is an integral part of the African Development Bank's plan to transform agriculture in seven Sahelian countries — Burkina Faso, Chad, Mali, Niger, Nigeria, Senegal and Sudan — through the TAAT programme.
Equipping farmers to improve yields
Low yields of sorghum and millet are a major concern for farmers in the Sahel.
"A comprehensive management programme has been designed to assist farmers to invest an additional US$ 151 per ha in improved
seeds, water harvesting and Integrated Soil Fertility Management. This will increase average yields to 1.8 tons per ha and steadily reduce Striga infestation, resulting in even greater mid-term gains," Dr. Dougbeji Fatondji said.
Fatondji, who coordinates the Sorghum and Millet Compact affirmed that the compact targets about 40% to 50% of African farmers with technologies relevant to boosting agricultural productivity and self-sufficiency by 2025.
In the Sahel, low agricultural productivity and lack of value addition are among the main causes of malnutrition, unemployment and poverty.
The agricultural sector accounts for 50% to 70% of employment in African countries, but produces only 25% of Africa's Gross Domestic Product (GDP).
Yields of sorghum and millet, the main staple food crops in the Sahel region, are low due to insufficient access to seeds of improved varieties, fertilizers and other agricultural inputs, inappropriate farming practices, declining soil fertility, lack of marketing and extreme weather events.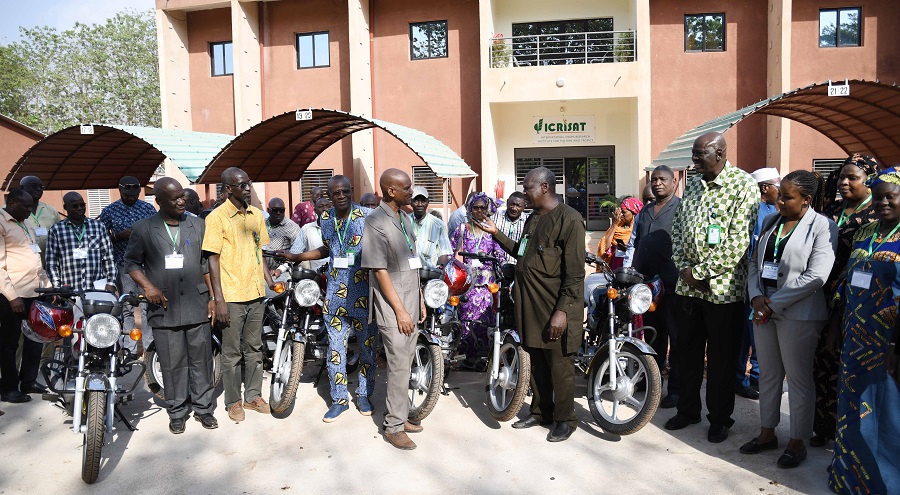 Taking Sorghum and Millet to the last mile
At the Bamako launch, six motorcycles were given to the Sorghum and Millet Compact partners. "These motorbikes will help us reach the last mile where access is often difficult by car," said Dr Abdoulaye Diallo, Sorghum Breeder at the Institut d'économie rurale (IER) and Compact country Focal Point, on behalf of the beneficiaries.
In Thiès, Senegal, Dr Alioune Fall, Director General of the Senegalese Institute of Agricultural Research (ISRA), said that TAAT fits seamlessly into the country's existing government programs.   As Compact early achievement, he said that 1 ton of breeder seed, 40 tons of foundation seed and 70 tons of certified seed were produced.
During a visit to the Compact seed multiplication site in Bambey, Dr Cyril Diatta, Sorghum Breeder at the Centre National de Recherches Agronomiques de Bambey (CNRA, Bambey), lauded the performance of the sorghum varieties being disseminated.
"Farmers are very appreciative of the 'Darou' variety (ISRA-S-622B) because it produces quality grains without tannin, quality fodder and sweet grain for human consumption. We have developed this variety for large-scale dissemination in the Sudano-Sahelian zone where the rainfall is between 600 mm and 800 mm. In Senegal, this zone includes Kaolack, Kaffrine and the North of Tambacounda regions," said Dr Diatta.
Dr Ousmane Sy, Millet Breeder, CNRA, Bambey, emphasized on the preference of farmers for short- duration millet varieties such as GB 8735 (Origin: ICRISAT).
"GB 8735, bio-fortified with Zinc and Iron, is preferred because of its earliness; also, its white and big grains are suitable for processing. In addition, the good exertion of the head prevents millet headminer attacks," said Dr Sy.
The inception meetings in Bamako (16-17 April) and Thiès (23-24 April) brought together experts and stakeholders from key areas including research, extension, seed production, farmers and women groups, development partners, processing and agricultural input suppliers, civil society and the media.
Sorghum and Millet Compact
TAAT is a flagship program of the "Feed Africa" initiative alongside with other four initiatives that make up the "High-5s". The main objective of the program is to improve the business of agriculture across Africa by raising agricultural productivity, mitigating risks and promoting diversification and processing in 18 agricultural value chains within eight Priority Intervention Areas (PIA) including sorghum and millet.
Led by the International Crop Research Institute for the Semi-Arid Tropics (ICRISAT) the Compact aims to scale up proven technologies, sustainable intensification, and improve profitability of sorghum and millet.