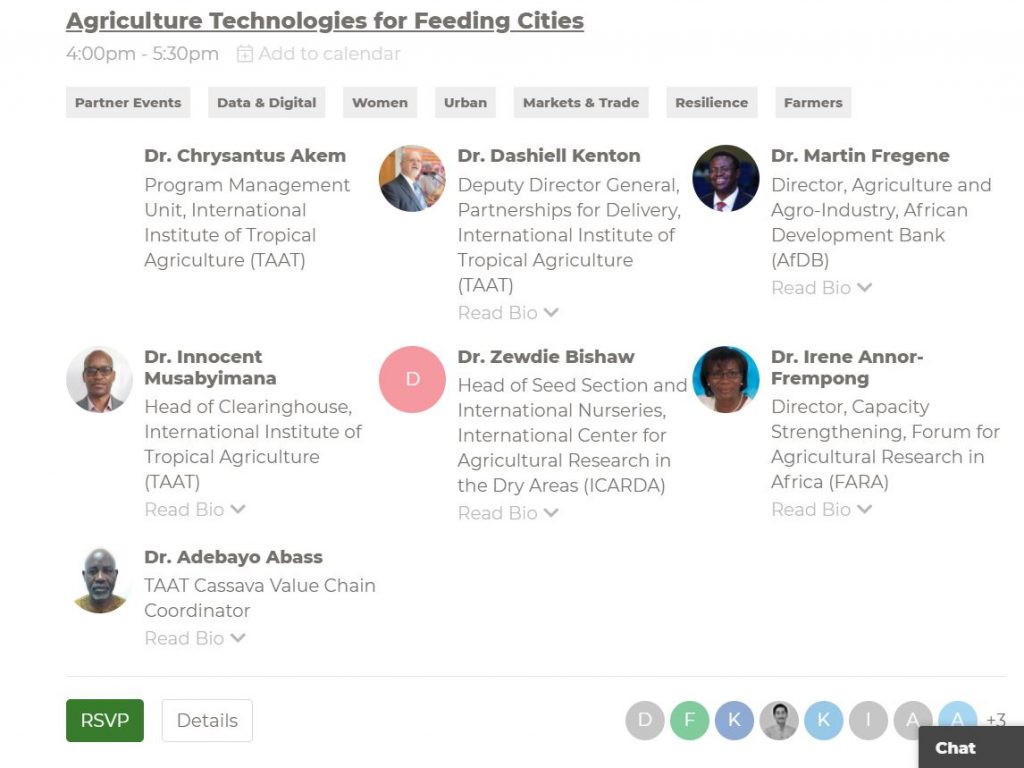 The landing page for TAAT's  high-level pre- session on "Agricultural Technologies for Feeding Cities" at this year's African Green Revolution Forum (AGRF) is now live. The session which holds via AGRF's virtual platform is now scheduled as follows:
Date:
Monday 7th September 2020
Time:
17h00 – 18h30 GMT +2 (Central African/Rwandan Time)
16h00 – 17h30 GMT + 1 (West African Time)
18h00 – 19h30 GMT + 3 (East African Time)
To access the live page and RSVP the event before it starts, interested participants are expected to register on the AGRF site and then follow the steps below:
Click on JOIN THE SESSION by your right
Then click on AGENDA (or https://agrf.summit.tc/2020/events/agenda/)
Scroll to the TAAT pre-session on AGRICULTURAL TECHNOLOGIES FOR FEEDING CITIES
Click on the RSVP button directly after the session to earn points and get notified when the session starts
Organised by the Alliance for Green Revolution in Africa (AGRA), the AGRF is the world's premier forum for advancing Africa's agricultural agenda. At its 10th anniversary, the summit is expected to use its full weight, resources, and partnerships to energise political will and drive the actions required to overcome the major challenges affecting African agriculture.
In line with the theme, TAAT's session seeks to provide insight on how African agriculture is being transformed through the African Development Bank's Feed Africa Strategy with particular emphasis on proven technologies and innovative partnerships as vehicles of delivery. The session will explore, the strategic linkage between agricultural research and technology delivery.  Participants will get an opportunity to hear about selected TAAT's success stories and lessons learnt in feeding African cities through its Wheat Revolution, Intensification of Cassava Production and Commercialisation, and Building the Capacity of African Farmers through Technology Outreach.
To REGISTER FOR AGRF, CLICK HERE