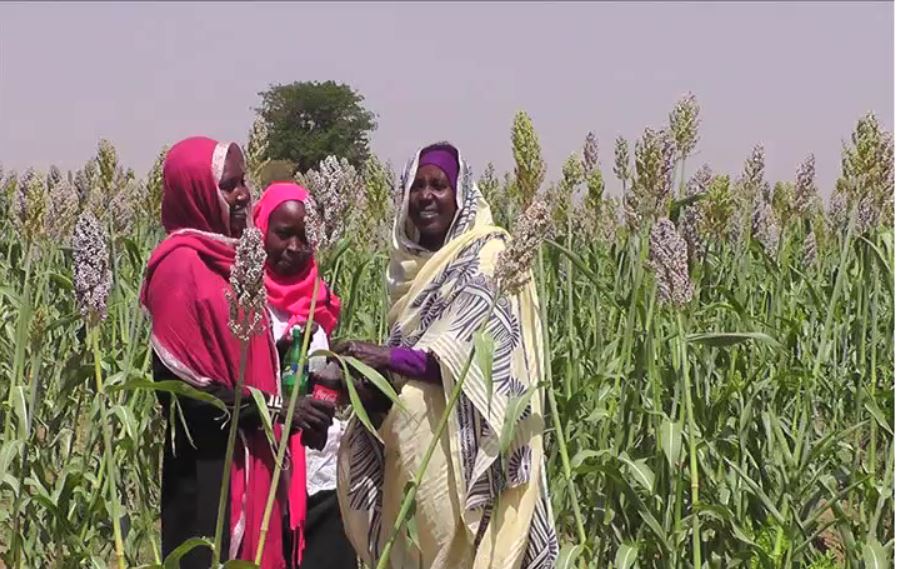 In South Darfur, Sudan, pearl millet is the most popular crop, and over 90 percent of farming households consider it to be one of their three major crops.
This is followed by groundnuts and sorghum. The other remaining crops are considered to be less important, favoured by fewer than 10 percent of the farming households.
Millet and sorghum are the main staple food crops across Darfur region while groundnuts are normally considered as cash crop. Although pearl millet is the most widely grown crop, less than 20% percent of farming households use improved varieties.
In South Darfur, farming households obtain their seed from multiple sources. These  include the seed they had saved, local grain/seed markets, social networks, seed aid from the government and other humanitarian and development partners, local seed banks and agro-input dealers.
Access to improved seed capable of boosting crop yield constitutes a major problem to farmers in the Darfur region. The challenge is made worse by the gaping lack of access at the community level.
Prompted by the need to address this challenge, the Sorghum and Millet Compact of Technologies for African Agricultural Transformation (TAAT) organised recently, a farmer field school/training in collaboration with Al-Amel Agricultural Women group.
Sponsored by the African Development Bank as part of its Feed Africa Initiative, TAAT's main objective is to improve the business of agriculture across Africa by raising agricultural productivity, mitigating risks and promoting diversification and processing in 18 agricultural value chains within eight priority intervention areas.
The programme increases agricultural productivity through the deployment of proven and high-performance agricultural technologies at scale along selected nine commodity compacts which include sorghum and millet.
These work with six enabler compacts addressing transversal issues such as soil fertility management, water management, capacity development, policy support, attracting African youth in agribusiness and fall armyworm response.
The TAAT Sorghum and Millet spearheads the bold plan to transform crops in Burkina Faso, Mali, Niger, Nigeria, Senegal, Sudan and Chad.
Led by the International Crop Research Institute for the Semi-Arid Tropics (ICRISAT), in collaboration with National Research and Extension Systems, the compact targets about 40 to 50% of African farmers with technologies relevant to boosting agricultural productivity and self-sufficiency in sorghum and millet by 2025.
It is in line with this focus that it identified the Sudanese women group for partnership in driving the farmer field school/training initiative.
The training which took place in Ed Elfursan community in South Darfur State, Sudan, attracted farmers led by the 25-member strong Al-Amel Agricultural Women Group.
The women farmers were trained on improved crop seed production and good agricultural practices.
Fathia Mohamed Ahmed, the chairperson described the training through farmer field school as "very important and useful for creating and developing our personnel skills need for better farming."
"The economic and social status of my members which weren't well-defined before the training received a significant boost as they became wealth creators for their families and communities," Fathia added.
The training also received joint support from the Food and Agriculture Organization (FAO) and Arab Organization For Agricultural Development (AOAD).
The partners recognised the farmer field school as a credible pathway to delivering agricultural technologies and inputs to farmers at local levels.
Other partners such as Nyala Agricultural Research Station provided foundation seed while improved variety was introduced by Wad Ahmed in addition to medium-maturing variety of 120 days that is matching with the duration of rainy season in the area.
According to Fathia, "during the growing season our group received seed extension services from research and extension personnel. As a result of this effort, our group produced about 7 tons of quality seeds."
The chairperson remarks that It was such an important breakthrough for her group members as they all began to experience boost in their businesses.
"Now our goal is to promote our quality seed to the NGOs in the state in order for them to sell it at premium price. Our group is still at an infant stage; however, our focus is to grow and to increase our agricultural business activities in the near future she said.