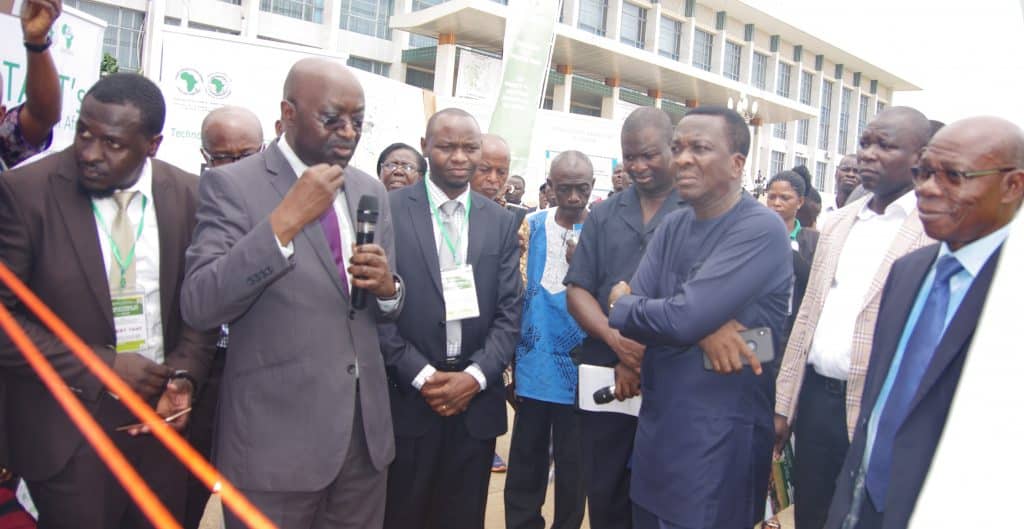 With more than 3.4 million hectares of land available, the Togolese government is worried that only 45% is being used presently.
The government is equally concerned that despite Togo's natural comparative advantage in agriculture when compared to other countries, its inability to maximise technologies that will increase productivity and diversify into higher-value-added products has held back the sector's performance and the country's economic growth.
Togolese farmers forum
These and many more concerns dominated Hon. Noël Koutéra Bataka's speech as the Togolese Minister for Agriculture, Animal Production and Fisheries declared opened today, the 11th National Farmers Forum in Kara, north of Togo.
This year's edition of the forum, which holds under the theme "agricultural transformation hubs to promote Togo's potentials", brings together high-level representatives of governments, donor agencies, experts from Technologies for African Agricultural Transformation (TAAT), farmers and women groups from across Togo, Benin and Burkina Faso.
"This forum is intended to show the agricultural sector in all its facets and diversity. The government's ambition for the sector is the attainment of a modern, sustainable and technology-driven agriculture with active value chains leading to food security and a strong, inclusive economy, "the minister said.
Technologies for agricultural transformation
Hon Bataka, during a visit to the TAAT stand admitted that the National Farmers Forum remains the best avenue to position Togo's on-going and new agricultural projects to benefit from TAAT's proven technologies.
Dr Mpoko Bokanga, Head of TAAT Clearinghouse in his response, informed the minister of the active engagement of experts from nine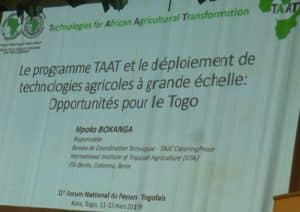 TAAT compacts in the forum. These compacts include aquaculture, maize, livestock, high iron beans, orange-fleshed sweet potato, soil fertility, rice and youth in agribusiness.
This engagement, Dr Bokanga said, "is the first of its kind in the implementation of the TAAT programme as it provides an opportunity for TAAT Compacts to link up with funded agricultural development programmes in Togo and leverage their resources to enable TAAT technologies to reach millions of smallholder farmers."
Technologies for African Agricultural Transformation (TAAT) is a programme initiated by the African Development Bank (AfDB) as part of its Feed Africa Initiative.
The programme aspires to improve the business of agriculture across Africa by raising agricultural productivity, mitigating risks and promoting diversification and processing in 18 agricultural value chains within eight Priority Intervention Areas (PIA).
With presence in about 31 African countries, TAAT is already increasing agricultural productivity through the deployment of proven and high-performance agricultural technologies at scale along selected value chains. These include rice, maize, cassava, wheat, sorghum and millet, orange-flesh sweet potato, high-iron beans, Livestock, aquaculture.
The programme also provides needed specialist services through six enabler compacts for soil fertility management, water management, capacity building, seed policy, fall army worm control and youth involvement in agribusiness.
Agriculture in Togo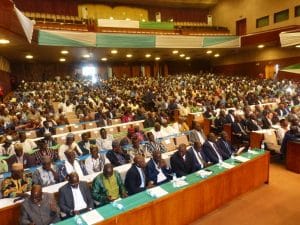 Agriculture is the most important sector to most Togolese as over 50% of Togo's estimated seven million people is engaged in agriculture, accounting for nearly 30% of economic activity over the past five years.
It employs two-thirds of the active population, who predominantly work on small land holdings. Food crops (mainly cassava, yams, maize, millet, and sorghum) account for two-thirds of production, and are mostly used domestically.
Togo's cash crops are mainly cocoa, coffee, cotton, and to a lesser extent, palm oil. These cash crops provide a valuable return for small farmers, and they provide 40 percent of exports
While urban areas have been growing rapidly, notably in and around Lomé, some 60% of the population continues to live in rural areas, with over 65% of these households (about 2.8 million out of 4.2 million) living in poverty.
Given Togo's high rate of rural poverty—with 55% of households living below the poverty line in 2015 and a majority being in rural areas, the theme of the 11th farmers forum cannot but be apt.  the Togolese government is desirous of using agricultural transformation hubs to revive the economy of the country.