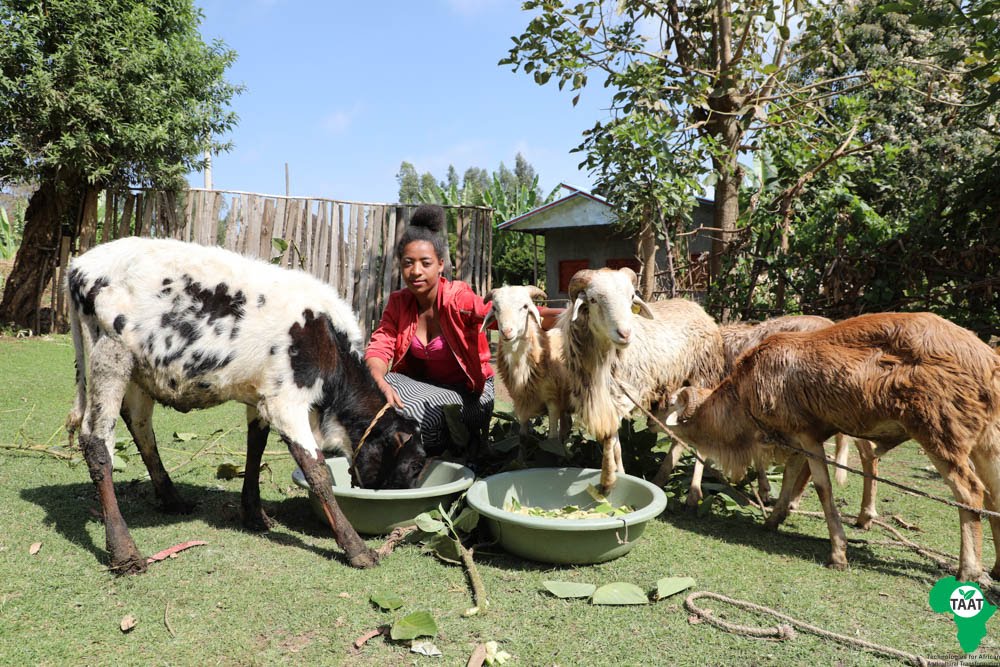 Livestock supports the livelihood of about 1.3 billion people in developing countries and contributes up to 30% of the agriculture GDP of countries in Africa, mainly through the provision of meat, milk, eggs, wool, hides and skins.
Demand for livestock products in Africa is increasing, rapidly fuelled by the growing population, urbanisation and improved incomes leading to shifts in diets towards high value commodities such as meat and milk. Livestock is a source of readily convertible cash and insurance against crop failures.
In Ethiopia, livestock is an integral part of the agricultural economy as almost all farmers own some livestock.
Youths constitute a significant portion of the Ethiopian population. Out of 108,386,391 people, 71% of this number fall under the 25-30 age group while two-third of the population are under 25 years old and more than half are women.
However, urban youth unemployment stands at 22% compared to 17% of for all other age groups. With a high unemployment rate in rural areas where most of the youth live, they mainly derive their livelihood from traditional farming with very limited land access.
Challenges
Access to land in Ethiopia is guaranteed either through inheritance upon death, as gift, or as informal rental markets, leaving young farmers without land inheritance at a disadvantage. With 80% of population residing in rural areas, there is a strong enabling environment whereby the population is looking for ways of improving income, productivity and thus livelihoods through livestock fattening and dairy production.
The challenge remains that agricultural technology and best practices are not widely available or adopted across rural areas in Ethiopia. In most parts of Ethiopia, lack of training and knowledge prevent youths and women from playing pivotal entrepreneurship roles in the broader livestock value chain.
Sheep fattening in Ethiopia is seen as a potential business-oriented enterprise that can provide a wide range of economic benefits to communities especially to young people and women through the direct sale and management of well-fattened rams.
The Menz, Bonga and Doyogena are three areas out of five in the entire country known for high quality sheep breeds.  Despite this fame, breeding in these communities is still rooted in fattening techniques that are outdated and take longer time to generate income for the household.
Often, farmed ruminants are raised in very traditional extensive systems lacking market and commercial production orientation. The animals are then sold to pay for farm inputs and other expenses and other household needs. However, this hardly translates into sustainable income supported through a vision for improved livelihoods.
With sights set on tackling youth unemployment in Ethiopia, the Livestock Compact of Technologies for African Agricultural Transformation (TAAT), deployed sheep fattening technologies in Bonga, Doyogana in the Southern Nations, Nationalities and Peoples region (SNNPR) and Menz in Amhara region.
Sponsored by the African Development Bank as part of its Feed Africa Initiative, TAAT's main objective is to improve the business of agriculture across Africa by raising agricultural productivity, mitigating risks and promoting diversification and processing in 18 agricultural value chains within eight priority intervention areas.
The programme increases agricultural productivity through the deployment of proven and high-performance agricultural technologies at scale along selected nine commodity compacts which include livestock.
These work with six enabler compacts addressing transversal issues such as soil fertility management, water management, capacity development, policy support, attracting African youth in agribusiness and fall armyworm response.
Led by the International Livestock Research Institute (ILRI), the TAAT Livestock Compact (TLC) seeks to increase the productivity and profitability of small animal value chains through upscaling innovations in livestock genetics, feed, health, production systems, policy and marketing.
Deploying livestock technology toolkit
In partnership with the International Centre for Agricultural Research in the Dry Areas (ICARDA), The TLC successfully provided resources, good agricultural practice training and technical backstopping to youth often seen as the messengers (and not participants) in technology dissemination.
From September 2018 to March 2019, TAAT and partners implemented a package comprising a start-up capital for procurement of one 6-12 months old ram, one salt-lick block, and a set of feeding and watering containers. Beneficiaries contributed additionally one ram each.
All animals were ear-tagged, castrated, vaccinated and dewormed. The sheep were fattened for 90 days. In addition, the beneficiaries received technical and business entrepreneur training.
The TAAT sheep fattening programme introduced the use of modern fattening techniques through the Community-Based Breeding Program (CBBP) already being implemented by ICARDA. Modern sheep fattening techniques, improved selection of sheep and feed, improved housing and health, general husbandry practices and marketing for farmers were deployed.
The target was to increase income generation by at least three times a year compared to older and outdated fattening techniques that provided income once a year if at all. By reducing the fattening cycle from 9-18 months to 3-6 months, farmers can target sheep fattening to major holidays in April, September and December when there is high demand for sheep.
The project also provided a series of entrepreneurship skills training to members of the youth groups in order to improve their entrepreneurship skills. The Compact proposed the Youth employment dimension to the sheep fattening practice.
The TLC-ICARDA collaboration used the youth groups (cooperatives), Community of Practice and other social support networks in CBBP communities to ensure that youths can acquire the requisite technical and business skills in sheep fattening and understand the market to have good bargaining power in selling the animals.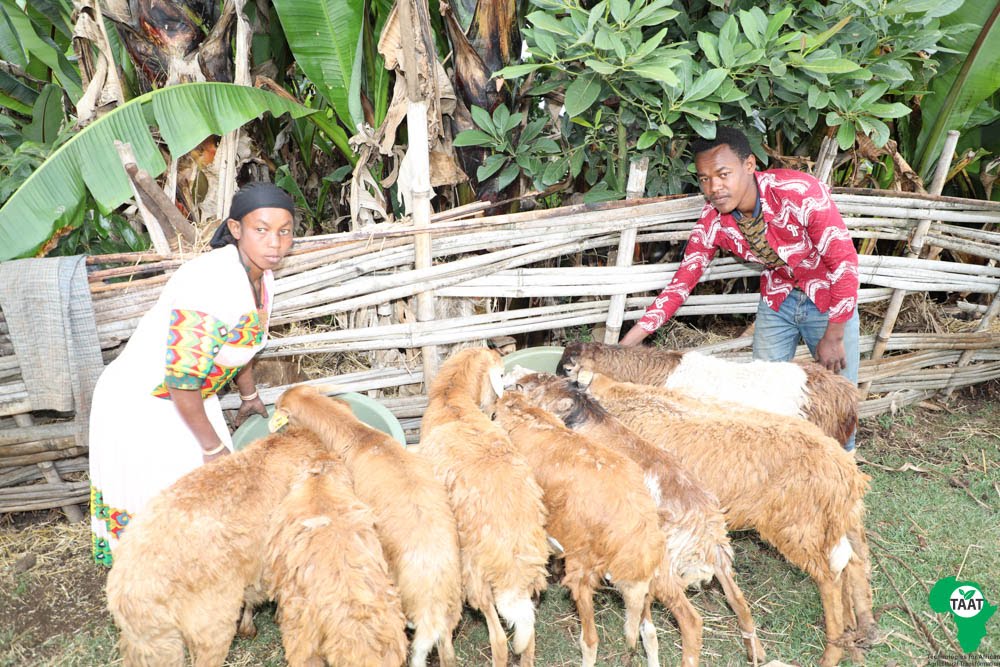 Key achievements
During a recent outcome case study conducted by the TAAT Monitoring, Evaluation and Learning (MEL) team, the impact of TAAT's intervention in sheep fattening in two breeding regions of Ethiopia – Bonga and Doyogena was verified. The site visits and focus group discussions on sheep fattening in Bonga, Doyogena and Menz conducted by the MEL team provided direct access to results on the ground.
Results show that youths have consistently maintained sheep fattening cycles within a short period of 3 months before sales, targeting mainly festive seasons when market forces are conducive.
On the other hand, it was demonstrated that consistent sheep fattening cycle has helped farmers in climbing the livestock ladder as well as ascending the assets ladder. Additionally, newly introduced modern sheep fattening has increased income and shifted consumption patterns.
The compact's sheep fattening intervention created youth and women sheep fattening groups which were hitherto non-existent and helped kick start interventions by providing one free ram to youth and women.
Subsequent to the provision of a free ram, farmers were also trained on ensuring good health of rams that included, the provision of plastic feeding and watering containers for the animals, technical training on sheep fattening for the youths and youth entrepreneurship business training.
All these were achieved in collaboration the National Research and Extension Systems (NARES) in the region.
In Doyogena, Ms. Abaynesh Demisse, a youth beneficiary aged 19 years, affirmed that the deployment of sheep fattening technology by the TLC and partners has enabled her (and her family) to move up on the livestock and asset ladders. Ms. Abaynesh who started the sheep fattening business with two rams (including one free Ram through TLC), is on her 5th sheep fattening cycle. She currently owns a Holstein Friesian crossbreed heifer worth 9,000ETB (USD279) and 4 sheep. She has also upgraded her father's house structure and has created shelter for her livestock in her homestead.
In Bonga, Mr. Ashebir who qualified as a beneficiary on a sharecrop basis to acquire a sheep and benefit from the start-up package, is currently on his 4th sheep fattening cycle owning an ox worth of 12,000ETB (USD372) and 4 rams.
The improvement in livelihoods was observed for 150 women through the feed technology programme deployed by the livestock compact. The technology intervention included using the false banana recipes known as Ensete ventricosum as feed for the sheep.
Through TLC's intervention among other things, women have become trailblazers in processing Ensete plants into useful material – relevant as feed for animals and food for human consumption.