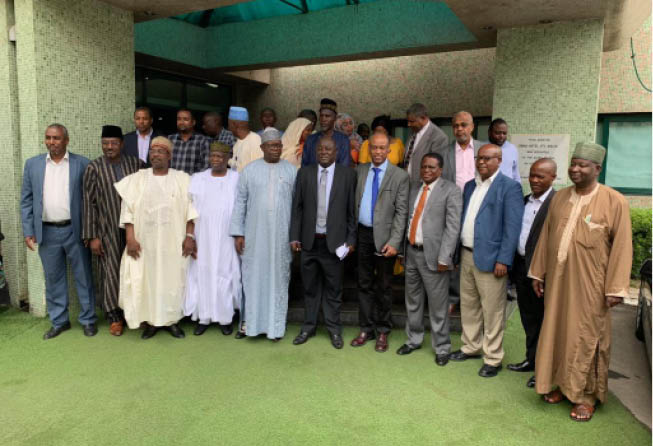 Experts attending the Annual Wheat Review and Planning Meeting in Abuja, Nigeria, have underscored the importance of taking improved wheat technologies to scale in order to narrow the wheat gap in Africa.
While delivering the opening remarks, Prof. Ibrahim Abubakar, the Director, Institute for Agricultural Research (IAR) at Ahmadu Bello University (ABU) Zaria, North-West Nigeria, called for the large scale adoption of new technologies to boost wheat production.
This, according to Prof Abubakar, will arrest the declining rate of wheat production and enable Africa to achieve self-sufficiency in Wheat.
Adding his voice to the call for sustainable intensification of wheat production in Africa, Dr. Mohammed Bello Umar, the Permanent Secretary at Nigeria's Federal Ministry of Agriculture and Rural Development (FMARD), urged participants at the meeting to come up with a plan to integrate indigenous and modern wheat farming methods in order to achieve self-sufficiency.
Organised by the Wheat Compact of Technologies for African Agricultural Transformation (TAAT) under the theme " Towards Greater Wheat Self-Sufficiency," the meeting seeks to review the progress and achievements of the 2018/19 scaling up activities by the compact, Innovation Platform (IP) sites and the country against anticipated targets.
The TAAT Wheat Compact Coordinator, Dr. Solomon Assefa in his welcome address added that the meeting would also formulate and agree on TAAT Wheat Priority Work Plan for 2019/2020 by component, IP site and country.
Sponsored by the African Development Bank (AfDB) as part of its Feed Africa Initiative, TAAT's main objective is to improve the business of agriculture across Africa by raising agricultural productivity, mitigating risks and promoting diversification and processing in 18 agricultural value chains within eight Priority Intervention Areas (PIA).
The programme increases agricultural productivity through the deployment of proven and high-performance agricultural technologies at scale along selected nine commodity compacts. These work with six enabler compacts addressing transversal issues such as soil fertility management, water management, capacity development, policy support, attracting African youth in agribusiness and fall armyworm response.
Led by the International Centre for Agricultural Research in Dry Areas (ICARDA), the TAAT Wheat Compact is present in seven countries including the East African Highlands, Southern Africa Plateau and Sahel. Activities in the Sahel are of particular importance as the development of new crop varieties permits irrigated wheat production during its cool season.
The compact's technology toolkit features many new wheat varieties with heat and drought tolerance, and stem rust resistance. These traits allow for expansion of wheat production in Africa, including the Sahel during its cooler seasons.