March 7, 2019
Integrate TAAT Into National Agriculture Programmes – Experts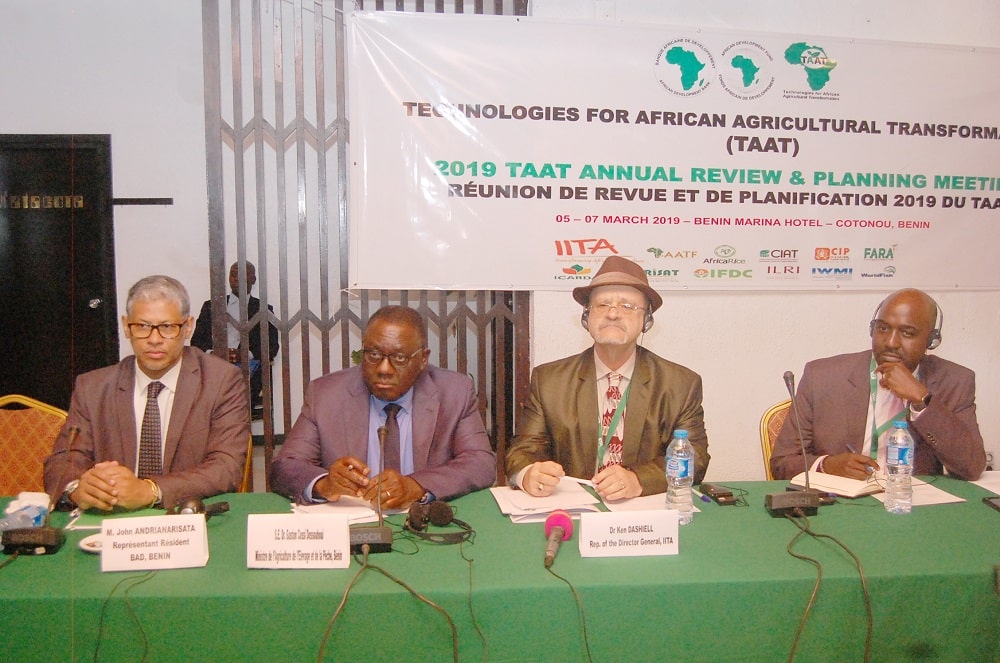 Experts at a Technologies for African Agricultural Transformation (TAAT) meeting have called for its integration into national agricultural development projects in order to reach millions of farmers across Africa.
The call was made in Cotonou, Benin Republic after a two-day high-level meeting which reviewed the programme's activities in 2018 and strategised for the 2019 year.
Declaring the meeting open, Benin Republic Minister for Agriculture who also doubles as the Chair of the TAAT Programme Steering Committee, Hon. Gaston Cossi Dossouhoui, said that TAAT was one of AfDB's flagship programmes for the implementation of its 'Feed Africa' strategy.
"We are pleased to learn that as part of this strategy, the AfDB intends to invest $24 billion in agriculture in its regional member countries over the next 10 years to transform agriculture from a subsistence sector into an economic development engine," he said.
According to Hon Dossouhoui, Africa needs to adopt high-performance technologies to boost productivity and increase food production and that is where the TAAT programme comes. However, the Agriculture Minister remarked that TAAT alone cannot meet the challenge of ensuring that proven technologies get into the hands of millions of small African producers.
To achieve this, Dossouhoui continued, "TAAT activities must be integrated into national agricultural development projects that can reach millions of farmers across Africa and it in this light that I invite other development partners like the World Bank, International Fund for Agriculture (IFAD), the European Union, bilateral partners and charities to support the activities of the TAAT programme."
Mr John Andrianarisata, African Development Bank (AfDB) Country Manager for Benin Republic, said that the transformation of African agriculture had become a necessity.
"In 2015, Africa imported $ 35 billion worth of food that Africa itself could produce. If we do not change our ways, in 2030 our food import bill will triple to $110 billion.
"Remember that this money is paid without credit and will create jobs and enrich producers in countries where we import while our producers remain in poverty and our youth are unemployed. This paradigm must change," he added.
In a similar vein, Dr Andrew Mude, Lead, Scaling Technology and Market Access for Smallholder Farmers at the African Development Bank (AfDB) also called for a new approach to agriculture in Africa, adding that until technologies get to the hands of smallholder farmers, african agriculture cannot be said to be transformed.
Also speaking at the end of the three-day review meeting, Dr Ken Dashiell, Deputy Director General, International Institute for Tropical Agriculture (IITA), called for an innovative combination of technical expertise, finance and political will to transform African agriculture.
According the IITA DDG, the transformation of agriculture will not be possible without the help of adapted technologies.
"To achieve our objectives, we must be able to wisely combine political will, favorable economic and institutional environment, adequate infrastructure, better access to the market and preservation of Africa's natural resources," he said.
"We are all here for the past three days because we believe in this initiative and are convinced that the transformation of agriculture will not be possible without the help of adapted technologies," Dr Dashiell said.
The meeting which brought together ministerial level government representatives and experts from the government of Benin republic, African Development Bank (AfDB), International Institute of Tropical Agriculture (IITA) and the other implementing agencies of the TAAT program, and Coordinators of TAAT Compacts, held from the 5-7 of March 2019.
The main objective of the programme is to improve the business of agriculture across Africa by raising agricultural productivity, mitigating risks and promoting diversification and processing in 18 agricultural value chains within eight Priority Intervention Areas (PIA).
The programme is implemented by IITA in close partnership with other CGIAR Centers and specialized technical centers like AATF, IFDC, FARA, national agricultural research and extension systems and private sector partners.