January 25, 2019
TAAT: Enabling the Passion of African Youth in Agriculture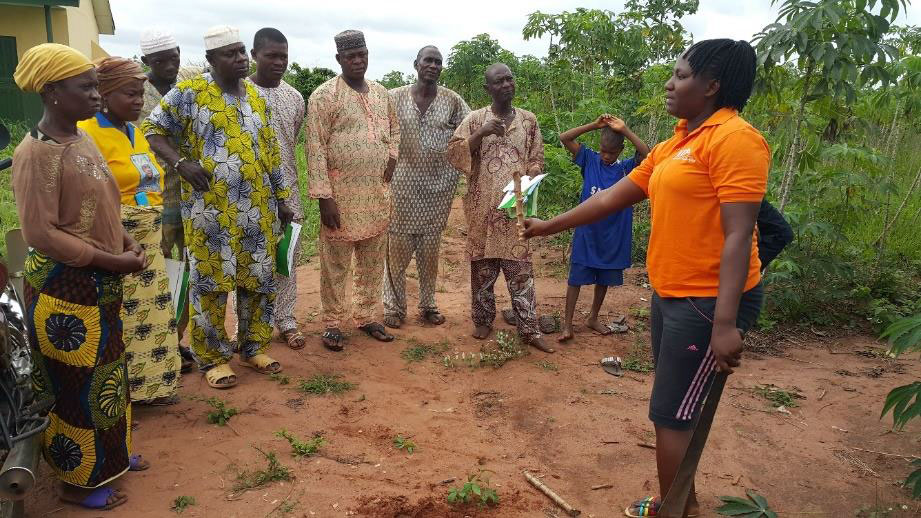 By Adetola Adenmosun
The ENABLE-TAAT compact is supporting the dreams and aspirations of many African youths by creating a platform that encourages them to choose a career path in agriculture.
The compact, which is one of the 'ENABLERS' under the Technologies for African Agricultural Transformation (TAAT) is targeted at guiding vibrant, energetic, young people to become owners and co-owners of independent agribusiness enterprises across all of TAAT's value chain.
Many of these young people who were unemployed graduates before their encounter with ENABLE-TAAT initially did not see themselves creating a career path along the agricultural value chains or embracing agriculture as a real business, but the compact availed them the opportunity to unveil their potentials in agriculture.
It was also gathered that many of them had a negative perception about agriculture, but the compact devised a means of changing their mindset by organizing trainings on agricultural commodities, business management, and leadership skills, and providing mentoring and facilities to explore available opportunities.
Within a short period of time, the initiative is recording successes and is fast becoming a veritable avenue for young Africans to create jobs for themselves through the proven technologies being promoted by TAAT and linking with other compacts under the project.
Led by Youth in Agribusiness office of the International Institute of Tropical Agriculture (IITA), the ENABLE-TAAT compact is providing Capacity Building and Technical Assistance for the establishment and expansion of youth-led agribusiness enterprises s across five countries- DR Congo, Kenya, Nigeria, Tanzania, and Uganda in year 1.
The enterprises were selected after review, grading, and recommendations based on key business elements, perceived viability for sustainability, and technological impact.
One of such established agribusinesses is F-Step Cassava enterprise owned by Seun Ogidan.
After being trained through ENABLE-TAAT, F-Step acquired 15 hectares of land at Ago-Owu in Osun State, Nigeria to establish a cassava farm for root production and stem multiplication. She started the business with her savings but was supported by ENABLE-TAAT to expand her capacity for production of planting materials for famers. The business has created direct and indirect employment for additional ten young people.
"I will expand my farm to about 25 hectares in the next planting season because I have lots of farmers requesting for planting materials especially the Pro Vitamin A variety. I am assisting in providing disease free cassava stem and also making money from the sales. I will not stop until I extend the benefit to other parts of the community" she said.
Another young man that is creating economic opportunity out of the technologies promoted by TAAT is Adedamola Murtalab. He was trained on the production of Orange Fleshed Sweet Potato (OFSP) and now makes a living from the multiplication of the vines.
"The Orange Fleshed Sweet Potato is scarce here in Nigeria but I had the opportunity of being enlightened on the health and economic benefits of it by ENABLE-TAAT and decided to be one of the agents of change. I discovered that lots of people were yet to know about it so I started making enquiries and was linked by ENABLE-TAAT with the International Potato Centre (CIP) and the their registered out-growers where I was trained and got the vines. I started with 4 hectares where I multiply the vines and train some farmers. I also sell the potato and the demand for it is encouraging so I will expand my business soon" he added.
The opportunity will be extended to more young people as the projects expands its activities to other locations in Africa. The aim is to reach out to over 5,000 youths in the first year of implementation.